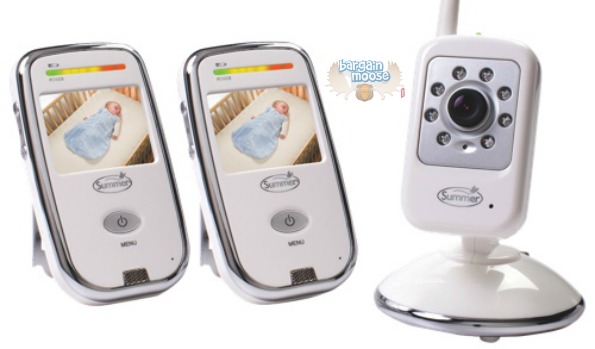 Why have only one video monitor screen when you can have two? Check out the Summer Infant Dual Coverage Video Baby Monitor on sale for only today at Best Buy Canada. This monitor was originally $279.99, but you can grab it today only for $97.99. Your new monitor will also ship completely free.
If you have a hectic and busy household, you might find you are regularly misplacing the monitor. This dual monitor today from Summer has you covered, with two video units to check in on your kiddo. This monitor is rechargeable and each unit has 2.3" digital video displays. Even cooler - you have a digital zoom option so you can get a closer look if something looks peculiar, especially handy with sneaky toddlers. Each unit has a night-vision mode and has a belt clip for a hands-free option.
Snuggle Bugz Canada has this monitor on sale for $279.99. Shop.ca is also selling this monitor for $279.99. Over at Amazon.ca, this same monitor is selling for $199.99 by a secondary seller. Many of the other digital video baby monitors were well over $100 but only included one screen, unlike the dual screens you receive with this deal today.
There are three reviews for this monitor over at Best Buy Canada. One is in French, but from what I can decipher with my moderate French linguistic skills, the reviewer is pleased with the product. One reviewer seems to have a defective product. Here is the third reviewer's review:
Got this product a few months ago and love it. Having two handheld units really does make life easier. I always have a unit charged and it is super simple to use. I also keep one upstairs and one downstairs so I don't need to carry around the monitor while I am trying to do things around the house while he sleeps.
This is a solid buy. From my internet research, this is the lowest price to date for this monitor. If you have been debating which monitor to buy, I would snag this one today at a great price. Peace of mind when your child is supposed to be sleeping is essential so you can recharge your own batteries. This deal is only available today!
Before my daughter was born, I thought it was no big deal having an audio only monitor. Boy was I wrong! I was gifted a video monitor and it made a huge difference. I cannot tell you how many times I consulted it on her first cry just to make sure she was ok.
(Expiry: 8th July 2015)