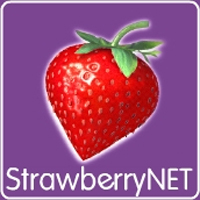 Have you ever ordered cosmetics from Strawberrynet.com? They have a great offer right now – buy 1 get 1 free on loads of big brand name cosmetics and skincare products!
As you can see, a lot of the make-up is marked with the BOGO logo. If you add one of these items to your cart on Strawberry Net, you will receive a second for free. The second freebie is automatically added to your cart. It's just a shame that you have to get 2 of the same color! Perhaps if you are interested, you could make an order with a friend, and you could keep one of each, making each item only half the original price!
There are many big name brands, many of which you will be familiar with – Stila, Mac Cosmetics, Lancome, Dior, Chanel, Estee Lauder, Biotherm, Smashbox, Givenchy, Clinique and more.
Now, StrawberryNet is NOT a Canadian company, they are US based. But they have an excellent reputation worldwide, and they do ship to Canada, so they're worth blogging about. Prices are shown in US dollars. Sadly with the state of the exchange rate, that doesn't make the prices super-cheap for us Canucks. BUT if you compare the prices to your local department stores or make-up counters, you'll see that Strawberry Net is competitively priced, with some very nice make-up bargains.
NOTE – you cannot order fragrances and colognes for delivery to Canada.
Free Shipping!
StrawberryNet.com offers FREE SHIPPING anywhere in the world! That is really excellent; I just love stores that don't charge me to postal fees for their goods.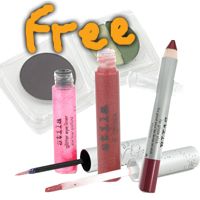 Free Stuff!
If you can manage to spend $25 on your first order from Strawberrynet (easy to do!) you will also get free Stila makeup! You can see the set pictured to the right.
Free Discounts!
If you happen to order 3 or more items, your cart is automatically discounted by an extra 5%!! Additionally, there is a loyalty discount for future orders (up to 10%).
Free Cashback!
New customers can also get 9.75% free cashback from Dealguild Canada.
Customs?
The only thing I'm not sure about would be customs fees and charges – you might be better splitting your order up into smallerbundles to minimise the risk of being charged extra. As it is free shipping anyway, just order each item individually, instead of one big massive bundle. Simply plan your orders before clicking the final submit button.