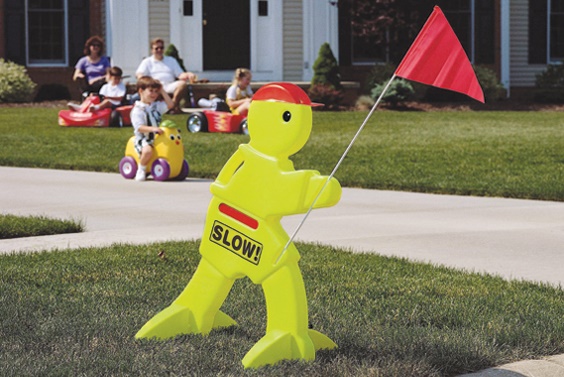 I live on a pretty busy street and sometimes cars drive at speeds that are probably higher than the speed limit. So it always worries me when the kiddo wants to play outdoors. Do you think something like this Step 2 KidAlert would solve my problem? The purpose of this cute little guy is to catch a driver's attention so that they slow down, knowing there are kids at play. It is normally $53.75 but at 54% off you can grab one for just $24.53.
This little bright buddy with a reflective belt will help you keep your children safe. I know if I was driving down a street and saw this little guy, I would definitely slow down. Would you? Would you use something like this to make your yard a bit safer for the kids?
The warning flag is included and is about 32" tall. The little Step 2 Kid Alert is easy to set up and take down, so it won't be a hassle for you as the parent. The bright body and the reflective belt are easy to spot and they even stand out quite nicely during twilight hours.
After reading the reviews on Amazon.ca and other websites, I have no doubt that cars and cyclists will slow down for this bright little guy. So while these yellow fellows are no replacement for parental supervision, maybe they will get drivers to slow down and pay more attention for the children. Do you agree?
If you are an Amazon Prime member then you will get free shipping. Otherwise you will need to spend $25 or more to have this item shipped to your home at no extra cost. It should be easy enough to find a small filler item though, or perhaps grab two of these little safety guys.
(Expiry: Unknown)