Digg if you like! Do you like Starbucks? Would you like a free coffee? Yes to both questions? Here's how:
On Earth Day (that's 22nd April 2009), bring in your travel mug, and Starbucks will fill it up with a free Pike Place Roast coffee!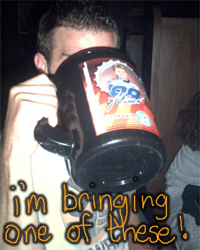 This seems like a nice deal! Starbucks do it every year I believe, so good to see they're keeping on track this year.
A friend of mine used to be the most anti-Starbucks person I had ever known. But he slowly seems to be coming round. Lately, Starbucks have been changing their policies, buying fair-trade, really getting into the socially responsible side of running a multi-national corporation. And my friend is slowly being corrupted by them! He was majorly against Starbucks and everything they stood for, but he is now grudgingly beginning to respect their practices! I'm sure there are a lot of others in the same boat too.
I've never had a problem with Starbucks. I'm not much of a coffee drinker to start with, but their frappucinos are to die for! Bury me in frappucinos and I'll die happy (if a little cold).
Thanks lickyoats!
P.S. If you like this Canadian freebie, why not subscribe to our email updates. :)