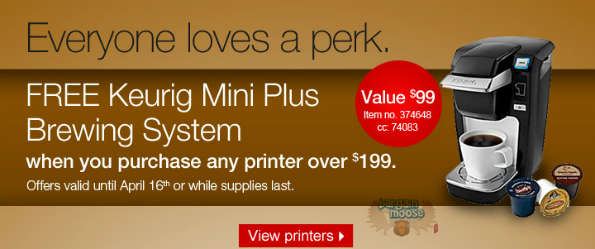 Do you need a new printer? Do you like coffee? You do?! Well then Staples has a deal for you!
 Click here to shop for printers @ Staples.ca
Coupon Code: 74083
Discount: Buy any printer over $199, get a FREE Keurig Mini Plus Brewing System
Expiry: 16th April 2013
To get this, add item #374648 to your cart and use the above coupon code. There are a lot of printers here but the few I tried adding to my cart shipped for free.
I suspect most people reading this don't want or need a $200 printer for their home. But then again I don't really know you all that well. Maybe you do. I'm not here to judge. In any event, I suspect this is going to be more of a small business sell. I know at my office we have... Wait... Seven? Yeah, I think we have seven Keurig machines. People love these things. Problem is that they are quite pricey. Even the Keurig Mini Plus that were talking about here is $100. I don't drink coffee so maybe it's just me, but if I had the chance, I'd be picking up a $19.99 Walmart special percolator or a $10 french press.
But if you need a printer anyways or that old one you have has been acting up, why not upgrade and get a new coffee machine while you're at it? Staples carries all kinds of printers from all kinds of manufacturers so there is something for every size of business. Whether you run a convenience store and you need a printer for the back office or you have a hundred people and need to add another printer, Staples will have the right choice.
Make sure to check out our Coupon Forum for more Staples coupons.