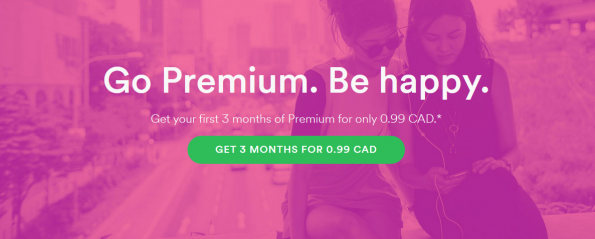 *Bump! This hot offer is baaa-ack!!*
Spotify hosts millions of music tracks that you can stream on your computer, tablet, phone, and more. While Spotify basic is free, Spotify premium usually costs $9.99 per month. Right now, Spotify is offering three months of its premium service for just 99¢, which works out to 33¢ per month. You save $29.97 over three months.
Let us talk differences. There is a basic Spotify program you can use free of charge. That program gives you access to millions of music tracks for free. Create your own radio station, adopt the playlists of celebrities or friends, or shuffle play any artist or playlist. The basic Spotify has ads and only allows you to skip six times per hour on your mobile. In addition, you cannot download anything: you must be constantly online.
Spotify Premium
Spotify premium is an entirely different kettle of fish. You can play any music on-demand instead of using shuffled playlists or artists. You can also listen offline (download the songs) so no internet connection is needed. Premium members benefit from unlimited skips and better sound quality: 320 kbps instead of 160 kbps. On top of that, premium is ad-free and you can play Spotify on your home speakers instead of just on your mobile devices.
If you do not wish to continue with Spotify Premium after the 99¢ trial period, then you will need to cancel your membership as right before the three-months are up. If you do not, then your credit card will be automatically billed the full $9.99 for the next month. This is an introductory promotion from Spotify. Thus, anyone who has previously had a trial with Spotify or previously been subscribed to the Spotify Premium service is not eligible for this promotion.
I think this is a very interesting service. I am going to be driving a grand total of 24 hours minimum in May. That is excluding two ferry rides. Sometimes I get bored of my own music selection and want something new. Spotify Premium would allow me to download new stuff to my iPhone. Because Premium does not require an internet connection to listen, it would keep me company through the BC interior where most cell phones lose any reception and radio stations die.
(Expiry: 31st December 2015)