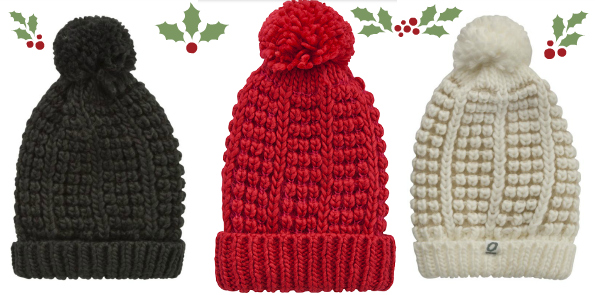 Stack sweet Pre-Black Friday discounts at Sport Chek Canada right now on some women's winter hats. The Firefly Garnet Women's Hat was $19.99 but is now on sale for $11.99 each. That in itself is a good deal, but you can also buy one and get the second one for an additional 50% off. That means you will pay just $17.98 for two Firefly Toques. On top of that, receive free shipping on your entire order.
(NOTE - the above links don't seem to go directly to the product but you can find it by searching for "Firefly Garnet" on site)
These hats are made of 100% acrylic and their warmth is substantially increased by the fleece lining on the inside. The fleece lining is also super comfortable across your ears when they are tucked in all cosy and warm. These toques have plenty of stretch so one size tends to fit all heads. While they are 'women's' winter hats, they actually are very gender neutral and could fit teenage girls, teenage boys, and men as well (well, smaller men's heads).
Each hat has a matching pompom at the top as a sweet little decoration. While these are just your basic toque with fleece lining, Firefly is known for their winter gear. You are sure to get a very good product that will last several seasons. Grab one of these for yourself and a couple extra for family members. You could even stuff them in Christmas stockings as gifts.
When you buy two of these hats, you get an extra 50% off the second hat. You can see how this works in my cart: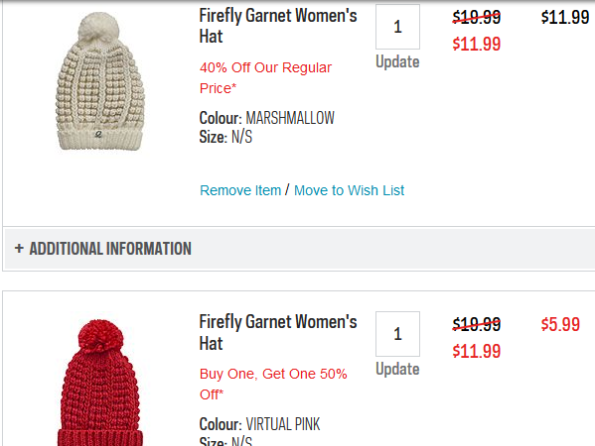 The one hat is $11.99 and the extra hat is now $5.99. This deal works in multiples of two so four hats will give you two at the discount price of $11.99 and two at the extra-discounted price of $5.99.
There are three colour choices between the two links: black, marshmallow (off white), and virtual pink. I think the virtual pink looks a lot more like red but it could be my monitor. Winter is coming and toques get so easily lost, misplaced, and worn out. This is the time to grab a couple and get them shipped to your home for free.
(Expiry: Unknown)