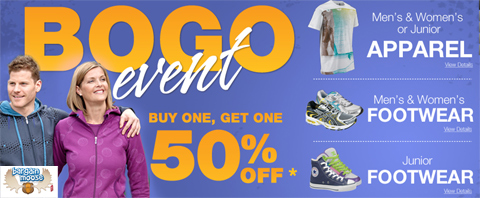 Sportchek Canada has just announced a new sale event online, it's a BOGO 50% event – that's buy 1 get 1 for 50% off, for those of you not down with the dealingo.
The main aspects of the Sportchek BOGO 50% event advertise a selection of apparel and footwear, for men and women, plus they have junior sizing too.
A few examples of items in this offer (you may have to search for them on the Sportchek site):
Under Armour Prophet II Running Shoes Mens - $89.99
The North Face Chilkats Winter Boots Womens - $89.99
Adidas adishape Studio Jacket Womens - $39.99
Nike Team Canada Replica Red Jersey - $129.99
With this kind of BOGO 50% sale, I usually recommend that you buy things in conjunction with your friends and family in order to get the best prices for all of you. I recently went shoe shopping with my friend, and there was this kind of offer – buy 1 pair, get 1 half price. We both chose a pair of shoes, each was the same price. We bought them together at the checkout and paid only half of the total each. You could do the same online with Sportchek – if you know someone who wants to spend some money too!