Edit: This cooking apparatus is on sale for Valentine's Day. This Sous Vide Culinary appliance has been featured in magazines such as The New York Times, Forbes, and Gizmodo, who stated: "Should You Buy It? Yes. Oh hell yes. I'm kind of in love with this thing."The Anova has also received a 4.5 star review on Amazon, so you know there is much ado about something! It's not all just hype.
My spouse is a bit like Gordon Ramsay with his cooking talents, (minus the !#@!) So, I'm always looking for new and exciting kitchen cooking methods. Especially as we head toward Valentine's Day.
I've heard of the Sous Vide way of cooking and what I had once thought of as 'boiling in a bag' (which didn't appeal to me at all)... turns out to be a world renowned method of cooking a variety of meats and more, to tender perfection!

This 2nd Gen Anova Culinary is currently selling for $169, down from $199 for the bluetooth model and is ideal for 7 - 8 people. Or, pay more for the bluetooth + wifi version convenience factor, on sale for $219, reg. $259. It's a safe method of cooking when you are AFK (Away from kitchen as in, out of the house!) It will serve up 8-12 people. With a 60-day money back guarantee, it's a sure thing that the product exceeds customer expectations.
Check out this link here on the Anova website where it states the following, in regards to cooking a steak:

"Take a look at the photo below. Both of the tenderloins started at the same weight. The steak on the left was cooked in a pan to a core temperature of 126°F (52°C), but more than 40% of the meat was overcooked. See that grey band? That's overcooked beef. The steak on the right was cooked sous vide to the same temperature and then seared with a blowtorch. As you can see, the steak cooked sous vide is perfectly medium rare from edge to edge."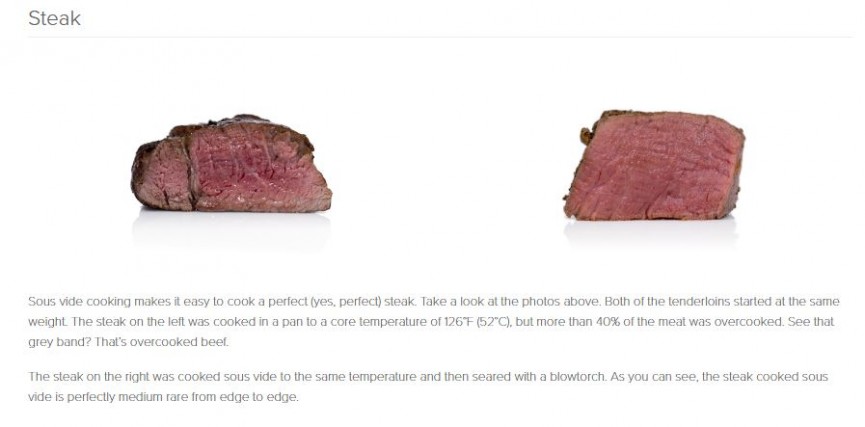 Check out exactly what Sous Vide cooking isand how it works. The food may require a quick 'sear' at the end of the cooking process - but what a super easy and especially tasty result, from start to finish.
Shipping is free!