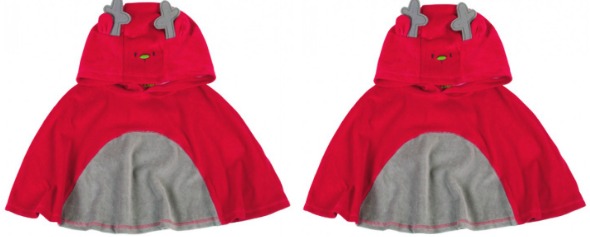 *BUMP! This is back in stock - YAY!*
Souris Mini has provided us with a lovely exclusive coupon code to get free shipping across their website with no minimum spend. I thought that it was a perfect opportunity to snag this adorable Reindeer Cape - which is now on sale for 70% off the regular price. You won't find an adorable cape like this for just $7.49 anywhere else!
This Reindeer Cape is just so cute. It can be used as a funny disguise, a warm cape or even a little blanket. Either way, it can be yours for under eight bucks and that even includes shipping thanks to our exclusive coupon code. 
So here is our exclusive coupon code to get you free shipping on your purchase:
CouponCode: MOOSEFS
Discount: Free shipping on ALL orders
Expires: 29th November 2015
This Reindeer Cape is made of velvet, cotton and polyester. You can machine wash it in cold water with similar colours, but you can only tumble dry it. But at least you don't have to wash something of this size! Speaking of size - you might be a little confused by the size of this cape. It says it is available in size TUE - which means it will fit kids from age 2 through 10. Yes, we emailed to ask! Now I know that size does not really give much of an idea in regards to how big the cape is, but I think you would be pretty safe with kids between the ages of 2 and 6.
I take my son to get professional photos done every Christmas, and something like this Reindeer Cape would be a fabulous addition to the props I think, though he may fight me about that one. But all in all this cape is an adorable way for your little one to keep warm, and it is super affordable too. I wonder if he will  hate me when he turns 18 and I show his girlfriend all these adorable photos.