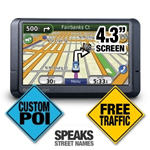 If you are racking your puny brains trying to think of a nice idea for a gift for your dad this Father's Day, here are a few ideas for you.
Does your dad have a GPS navigator yet? You might do well with this Garmin Nuvi 265WT for only $129.97 from TigerDirect Canada, with free shipping too. It is a refurbished model, but still comes with a warranty. A GPS is a pretty cool gadget to own. Even if you only use it a few times a year, it can be handy for finding your way to a new destination.
If your dad drives a lot, then a Bluetooth headset is a must-have for using with his cellphone. This JX20 Pura wireless bluetooth headset is only $49.99 with free shipping from Dell Canada. These are a must-have if you want to use your cellphone in the car - I hate seeing drive-by-texting!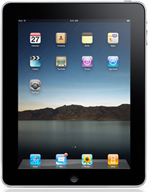 If you are throwing away money, then how about an iPad which start at $549? I recently wrote a post about the launch of the Ipad here, if you want to read my opinion on it. If your dad is a gadget-lover, then I am sure he has heard all about the hype surrounding the new Apple iPad and he might like to have one for himself.
Avigayil suggests buying him a Superdad t-shirt from Tshirtmonster, using the 15% discount code in this Tshirtmonster post. There are a few other options for dad on there, such as this I heart dad onesie, or the world's greatest dad.
And dad definitely needs one of these - a USB missile launcher from The Source. Wait a minute, I need one of those! People already refer to my home office as missile command, so I think a USB missile launcher would fit in perfectly.
Do you have any good suggestions for Father's Day gifts?