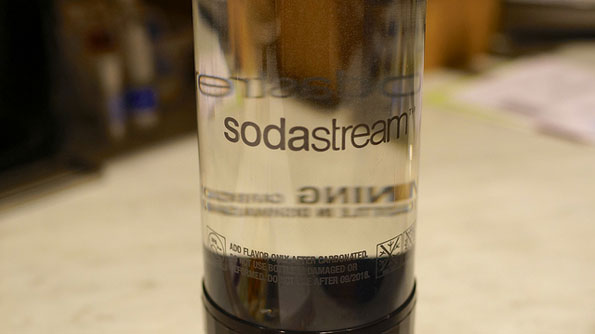 Carbonate your drinks with Soda Stream and use the code below to save 20% off beverage stations, flavours, carbonators at SodaStream.ca!
Click here to shop @ SodaStream.ca now
CouponCode: SUMMERTOUR
Discount: 20% off
Expires: Unknown
Ever since seeing the commercial that Scarlett Johansson shot for Soda Stream (and which was banned, by the way), I have definitely been wanting to give Soda Stream a try. For those of you who have never heard of them before, the concept is simple: a beverage station, as they refer to it, carbonates drinks. What this means is that the stations, which closely ressemble Keurig brewing machines, add bubbles to your drink.
Even more interesting is that Soda Stream is supposed to be much friendlier on one's budget because instead of having to buy cans upon cans of carbonized beverages like Coca-Cola, Sprite and so on, you can just make them yourself and this also helps to reduce waste in the world as well, as you're not buying endless amounts of plastic bottles. In fact, here's how Soda Stream has broken down the cost of soda if you choose to bubble up your drinks yourself:
After your initial purchase of a home beverage station package, you'll enjoy seltzer and sparkling water in reusable 1-liter PET bottle for just $.30 per litre and flavoured sodas for about $.88 per litre, before any applicable shipping charges. Penguin machine users will pay just $.46 per litre of premium sparkling water and as little as $.83 per litre of fresh gourmet soda.
With this coupon code, you're also sure to get a beverage station for cheaper than anywhere else. There are a couple of beverage stations to choose from, but one of the cheapest ones is the Genesis Titan. With the code, you're looking to get it for $79.99, while everywhere else it's about $100 (i.e. Canadian Tire & Staples). The most expensive one you can get is the Penguin for $249.99 and luckily with the coupon, it comes down to just $199.99. It comes with two carafes and the cheapest I have found it anywhere else is at Amazon for $279.99. Basically, all of these machines serve the same purpose, that of adding fizz to your drink, but the more expensive one looks sleeker and some also have digital displays.
When I created a test order to an Ontario address, shipping was free on orders over $150 and $15.93 for an order that didn't meet that threshold. However, do keep in mind that the fee may vary depending on your location and that it takes on average 10-12 business days for your purchase(s) to arrive.
As usual, this Soda Stream coupon code may also be found on the Bargainmoose forum.
(Image Credit: Ted Eytan)