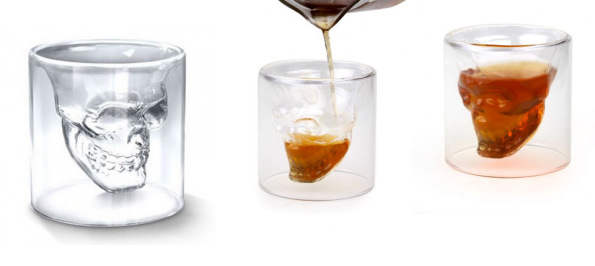 I had to buy two of these glasses. My dad and older brother will thoroughly enjoy them, end of story. They don't even have to know that part of their Christmas gift was just $4.75 including the shipping cost. These cups were regularly $9.71. This Creative Skull Design Crystal Cup has probably shown up in your news feed on Facebook quite often, and now it can be in your very own hands.
This Creative Skull Design Crystal Glass is awesome. It definitely has a unique touch and your dad will enjoy sipping his scotch or whiskey from it. It will also make a fabulous conversation piece, or you can keep it for yourself. Either way, Gear Best has this skull cup on sale from $9.71 down to just $4.75 and I am not complaining. Shipping is also free and your item will be dispatched within 4 to 10 business days.
So far this particular glass has received 87 customer reviews on GearBest.com, leaving the Creative Skull Design Crystal Transparent Glass with an average rating of 4.7 stars. That's not far off 5 stars, so people must really enjoy this glass. Fill the glass with rum or Coca Cola and the skull will become apparent. Too bad this item didn't go on sale earlier, it would have been awesome to carry around at your Halloween party. I ordered two anyways, some people enjoy skulls all year round. The glass will hold 75 ml, which is quite an amount considering the average shot is about 30 ml depending on where you are ordering from.
Once you find this glass, you may find yourself looking for excuses to drink out of it. This particular cup is made by the brand DOOMED, which has excellent ratings and reviews. The only downfall I could find is that the cup is quite delicate, so just be careful not to drop it off your kitchen table after you have enjoyed it with your rum or whiskey a few times.
I did purchaser two of these myself, and no shipping costs were added onto my total. You might receive duties at your door, but since this item is under $20 I highly doubt that will happen. If you order these glasses now, you will receive them in time to give them as a Christmas gift.
(Expiry: unknown)