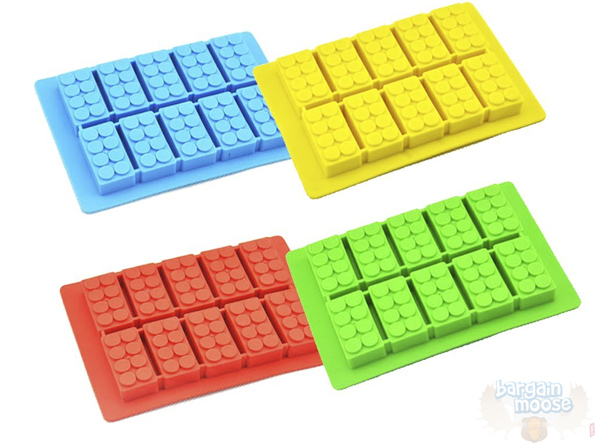 There was an incredibly popular video doing the rounds a few months ago which I mentioned here in this previous blog post – how to make your own LEGO gummy candy! It was a massive hit on our Facebook page with many people inquiring as to where to get a good deal on the molds. I've found that Amazon.ca is probably the handiest and best-priced online store for this type of thing, and you can often find a good bargain there. And that's what I have spotted this morning on some of the brick molds – you can buy them for only $3.61 with totally free shipping!
Just note that these molds aren't directly from Amazon, they're from an Amazon marketplace seller. It also doesn't state a shipping timeframe, although the seller's page states that the order will be shipped within two days of being placed. The sellers I am focussing on are called O'style or Click Down - they've both got a good rep and rating. Please note that there are a couple of sellers at $3.54 - but thye're newly launched stores with no feedback ratings - I'd pay the extra few pennies and get the reputable sellers.
The image for the silicone molds shows them in four different colours, as you can see above. However, there's no option to select a colour when you place your order so I think that you'll just be sent a random colour choice.
To buy molds like this directly from the LEGO store will set you back about $8 to $15 (though I can only see the Minifigure tray in stock here at the moment).
Now, I mentioned using these molds to make LEGO gummies. That's fine, but there are a plethora of other things which you could make with these molds.
Some of the LEGO DIY ideas –
LEGO gummies – tutorial here.
LEGO soap – tutorial here.
LEGO chocolate – tutorial here.
LEGO crayons – tutorial here.
LEGO ice cubes – no tutorial necessary!
Obviously if you make all of the above items in a short space of time, you could confuse the kids. While it's OK to eat the LEGO gummies, it's not exactly OK to eat the LEGO soap! Don't let them get confused!
If you make any of the above items with these LEGO molds, please let us see the results in the comments below!
(Expires: unknown)