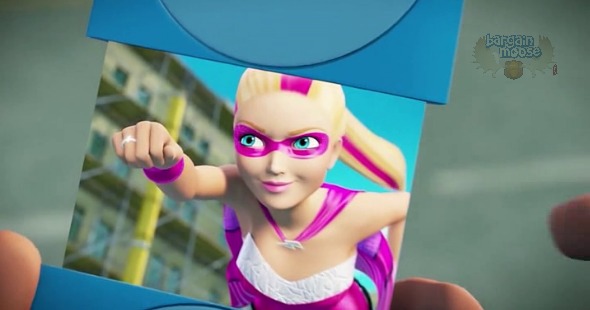 Looking for something to do with your daughter on the Saturday the 21st of March? Why not get a few free movie tickets to see Barbie in Princess Power at a theater near you. All you have to do to get your free tickets, is sign up to be a Barbie Super Squad member. Then, the tickets will be free for you to download.
These free tickets to see Barbie in Princess Power are valid for Saturday the 21st of March only. To get the best experience out of this offer, you and your little princess should show up before 9:30 AM, that is when the Pink Carpet photo opportunity will begin. Make sure you wear your best Barbie super gear for the Pink Carpet photos. The movie screening will start at 10 AM sharp, so don't be late.
You can get up to 4 free tickets to see this adorable Barbie movie, so bring your daughter and a couple of their friends. These tickets are downloadable so you will need a printer. In exchange for the free movie tickets, Barbie is asking that you bring in a canned or packaged food item to donate to a local food bank in your community. This is not required, but it is a great cause.
To sign up to be a Barbie Super Squad member, click on the button at the top that says "Be Super". If you click login and register there, you will get an error screen. Once you create a username and password, you can then click "download your movie tickets". These tickets are absolutely free, you just have to use them. There is no telling how many tickets are available, so be sure to snag yours quickly. You can watch the trailer on YouTube to be sure you and your little girl are interested before downloading the tickets if you wish.
You'll also have the opportunity to win some prizes! This is a great chance to spend some time with your daughter without breaking the bank. Witness Kara discover her amazing super powers after being kissed by a magical butterfly, for free.
(Expiry: 21st March 2015)