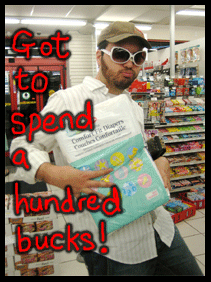 Here's a deal that might be of interest from Shopper's Drug Mart Canada. This weekend, between the 20th and 21st of December 2008, you must try and spend $100 in-store! If you do, they will reward you with a free coupon worth $25 which you can then spend in-store until the 3rd of January 2008.
There are the usual exclusions:
"Excludes prescription purchases, products with codeine, tobacco products (where applicable), stamps, lottery tickets, event tickets, transit tickets and passes, electronic gift cards, Life Experiences® packages, prepaid phone cards and Shoppers Home Health Care locations."
Some people might think that a $100 minimum spend for Shopper's is quite high – not me! Simply stock up on your favorite moisturizer, shampoos, perfumes… and you can easily reach the $100 mark. Especially if you still haven't finished your Christmas shopping!
Thank you for the image Carolyn Coles!!