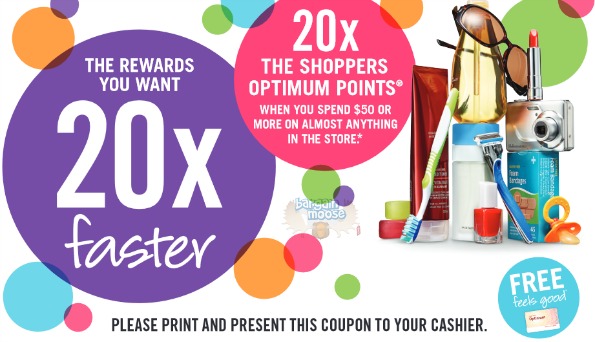 Use this printable coupon for Shoppers Drug Mart to get some extra points on your purchases.  Get 20x the Shoppers Optimum points when you spend $50 or more on almost anything on May 7th, 2014.
This coupon is only valid for May 7th from opening until closing so make sure you do not miss out tomorrow on the extra points.
I was in Shoppers Drug Mart yesterday actually, dropping off some Mother's Day cards at their post office and noticed that they have all their sunscreens and bug spray out now.  I may grab a few bottles of each with this coupon so I can get the extra points.  We go through a ton of it camping all summer long and being outside all day playing in the back yard.
You will still have time to grab some Mother's Day gifts as well.  They have cards, books, gift baskets and more for mom.
The points will not be automatic to your account so hold on to your receipt just in case.  You will see them on your account by May 21st at the latest.
You will find this Shoppers Drug Mart coupon and all others, posted up on the Bargainmoose coupon forum.
(Valid 7th May 2014 Only)