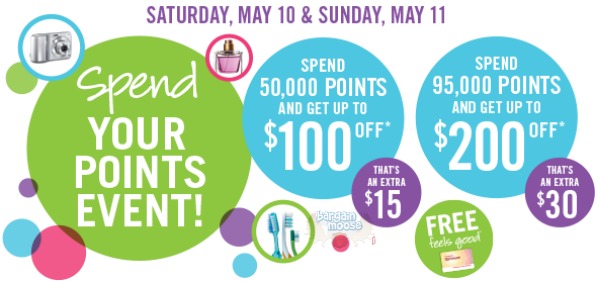 For two days only, you will be able to redeem your Shoppers Optimum Points for higher values than normal.  Redeem up to $200 on Saturday and Sunday only at Shoppers Drug Mart.
Here is a look at the bonus redemption levels this weekend:
Redeem 95,000 points and get $200 off (Extra $30)
Redeem 50,000 points and get $100 off (Extra $15)
It has been a while since the last redemption event, so hopefully you have lots of points saved up for this weekend. Like any other redemption time, you will be able to redeem up to two orders on each of the days.  There is no coupon necessary to get the bonus levels as they will be automatic at the checkout.
This is the perfect time to use your points to get Mom a special Mother's day gift free of charge. You can redeem your points for electronics, books, beauty products and other things Mom will love.  You can even redeem your points for cards.
All of the regular exclusions apply to this deal, and when you redeem your amount, you will just need to pay the taxes on your purchases.
(Expiry: 11th May 2014)