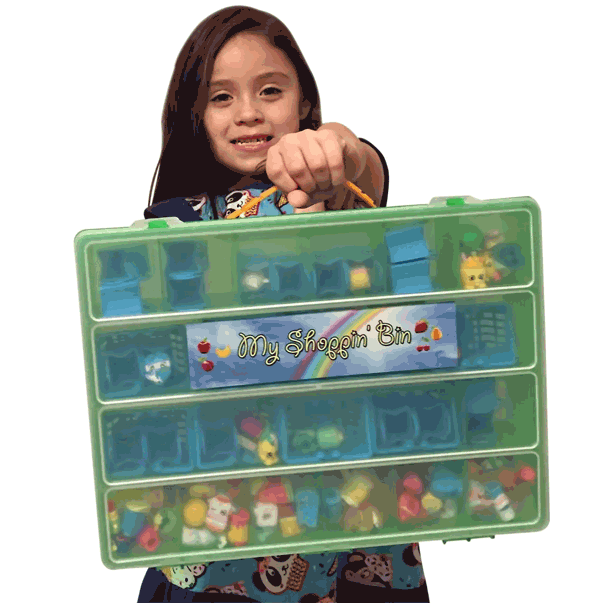 From conversations on our Facebook page with many of our Moosers, we've heard that there are a lot of mini-Moosers out there who love Shopkins toys. And over in the movers and shakers at Amazon, I spotted that this Shopkins organizer is a very popular item – it's currently priced at $35.97 with free shipping. I did a little research and thought this would be a great idea for share with you guys – as they're very hard to get in Canada!
The Shopkins "My Shopping Bin" Organizer is sold by "Life Made Better Canada" but it is fulfilled by Amazon – meaning that it qualifies for super-fast shipping if you have Amazon Prime, or free shipping as it is over $25 anyway. It's coming in to stock on the 4th of November, so it might be a little slower than normal, for delivery from Amazon.ca.
This sturdy little organizer is made to hold all the different Shopkins toys. It has 16 different compartments, fitting up to 50 shopping baskets and up to 200 Shopkins characters.
There are no customer reviews on the Amazon.ca site itself yet as I think this is quite a new item on there, but there are many reviews here on Amazon.com if you wish to read some of them. Please note that even though this item is only $19US on the dot com, you cannot place a Canadian order for it anyway – I checked that out when I was price comparing.
I cannot find this type of item to price compare anywhere else in Canada, so this makes this quite a rarity. There are some crafty people on Etsy being creative and taking some basic box organizers and customising them to make fantastic gifts, such as this seller offering one for $65+. Obviously that's really cute, but you're paying extra just to have the customisation, of course. I think if you were planning on getting a Christmas gift for someone who already collects Shopkins, this could be a really cool addition to the collection – not to mention, a way to try and keep the house tidier!
While you are on Amazon, have a glance at the Shopkins deals and see if there is anything else you might want to pop in your cart. Just be careful on the listings though – quite a few sellers ship from Asian regions, so just make a note of that when buying. One offer that jumps out is this Kooky Shopkins 8"Plush toy – down from $17.99 to $12.99 – that's from Amazon.ca too.
(Expires: unknown)