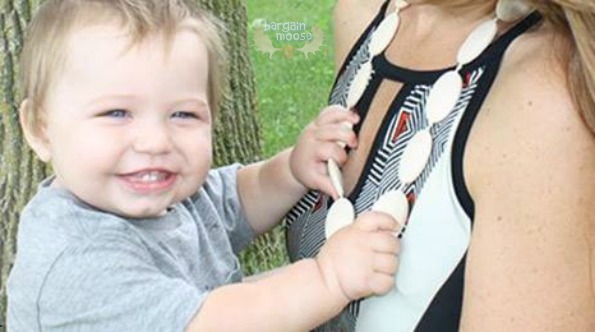 I found a cool little deal for all the Moms out there who like to look good and be practical at the same time. Get two Chic Mammas teething necklaces for $50, with regular prices of up to $32.95 each.
Even though we have a fabulous exclusive coupon code out for $10 off your $50 order, if you use it on this deal, you'll actually lose money. So… don't.
These necklaces are not the ones that the babes wear, but instead Mom wears them and baby can chew on them. I know from having lots of babies that babies will chew on anything you've got on - your hair, your fingers, your jewellery - but it is not always that safe. These necklaces are made to be chewed (so you could do a little chewing yourself if you are so inclined). Made from the same material as teething rings - 100% silicone, they don't contain PVC, BPA, phalates or latex.
Obviously moms don't want to wear teething rings around their neck and some get sick of the "dropped it on the floor, now you pick up" game one thousand times a day. This is a great solution to the baby needed something to chew on while mom holds baby and mom wants to look good problem.
The two for $50 deal is not valid on sets, only on the necklaces themselves. I'm liking the simplicity of this fashion forward necklace. This is even something you can wear once your babe has outgrown their mouthing everything stage. It sells for $32.95. Black and white is also chic and goes with almost everything and this one also sells for $32.95. Instead of paying $65.90, you'll save almost $16 and pay only $50.
Shipping is free on all orders from Shop.ca, so there is that little bonus for you too.
(Expiry: Unknown)