A while back, Shop.ca had an offer with Paypal, where you were able to get $25 off a $75 spend, and it's now available again. On top of that, you can combine our Bargainmoose exclusive coupon code MOOSE for $10 off $50, making a potential total saving of $35 off $75!
AND if you are a new customer on Shop.ca, you can actually get $25 credit for your first $100 spend. Therefore spend $100, and end up paying only $40!?!
We had a bit of trouble the last time this promotion was posted, because back then, it was only valid to certain Paypal customers who were already signed up to their deals mailing list. But this time, I am informed that the Paypal discount is open to anyone who has had a valid Canadian Paypal account active up until Oct 15th. Note: If you used the offer previously, it won't be available now. Or if you have a business PayPal account, the offer is not available either.
To make sure you get the offer, here's how to check. When you're going through the Shop.ca checkout, first of all make sure you apply the exclusive Bargainmoose Shop.ca promo codeMOOSE for $10 off $50. Then, select Paypal as the payment method. When you proceed through checkout and log in to Paypal, under payment methods, you should see something like this message, "special offer will apply and display on paypal receipt."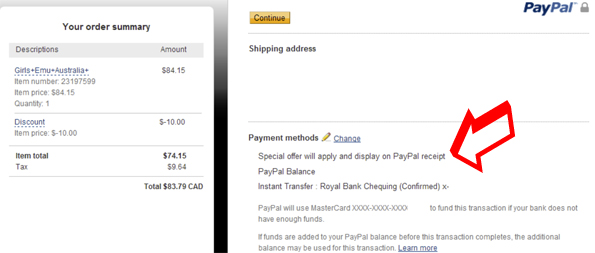 After you complete your purchase through Paypal, you should see something like this in your account activity:

Note the $25 credit from Paypal. If you don't see that, then something's gone amiss, and you might have to contact Paypal about it. There's also an explanatory video hereif that helps.
Our author Shawn tested this out and it's working, though Eva was getting an error on the Paypal sign-in, so I hope you guys don't have any trouble.
(Ends 17th November 2013)
P.S. If you need a small item to make your cart up to a certain level, here are office supplies sorted by price ascending - pop something small in your cart! Our developer Ricky just ordered GTA V, a litter box and 6 pens for $64.19 after tax ... !!