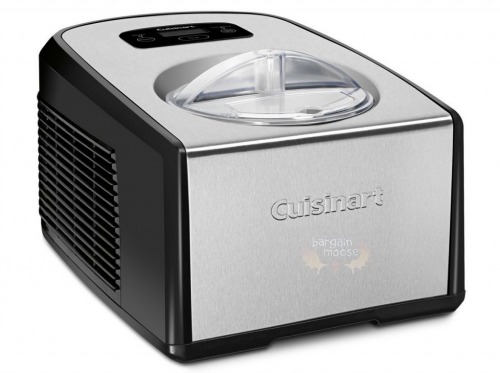 Shop.ca has an amazing deal on the Cuisinart Gelato and Ice Cream Maker. The original price is $349.99, on sale for $211 but when you add this Shop.ca coupon code (MOOSE2014) you save an additional $10, making the final price $201.
If your husband and children are anything like mine, they love their ice cream! They especially love it after summer sporting events (soccer, t-ball, ball hockey...we are a go, go, go kinda family). There is nothing better then sharing a cold summer treat on a hot afternoon or hazy humid evening. We will often stop at the local ice cream stand on our way home, but that can get expensive. I like the option of making our own at home, the initial investment might seem like a stretch but over time it will definitely save us money and I like the idea of being able to control the ingredients. My husband is limited when it comes to his favourite frozen treat as he is lactose intolerant, this is the perfect opportunity for us to make his own coconut milk ice cream! Another feature I like about this model is that you don't have to pre-freeze the unit in order to make gelato or ice cream, it has a built-in compressor which allows you to make ice cream at the drop of a hat (and baseball glove in our case).
I shopped around to see if I could find it cheaper elsewhere, the next best price is through Amazon, where it is $259.
Here is one review from Amazon that may help you decide if making homemade ice cream is worth the splurge:
Amazing machine! No disappointments here! Easy to use and makes the best ice cream, frozen yogurts, sorbets and more. Looks beautiful as well.

If you are thinking this would make a great Father's Day gift, like I am, you will be happy to know that it leaves the warehouse in 4 business days or sooner. So if you order it today it may just arrive in time for the big day.
As always Shop.ca offers FREE shipping on all purchases, no minimum required. Plus if you collect Aeroplan points, you will receive a bonus 800 points with the first order of $99+ after adding your Aeroplan card to your account.
(Expiry: unknown)