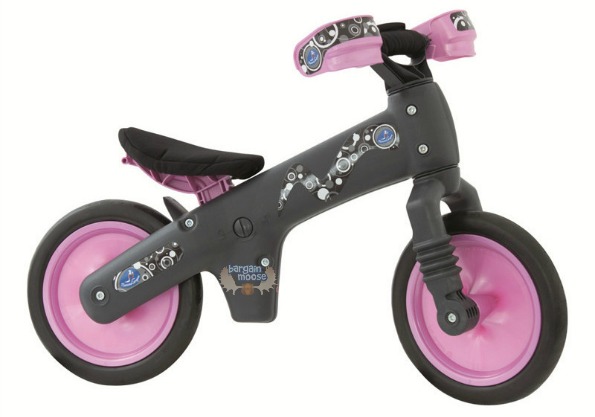 Shop.ca has a deal on right now that will save you a little bit of money on a balance bike. Regularly $149.99, they are on sale for $139.99 and they'll also ship for free.
While $10 isn't a huge amount, getting free shipping on a larger item like this is a great addition to the $10. The reason I wanted to blog this post for you is that if you have a toddler or young child who hasn't yet caught on to riding a two-wheel bike, you want to get them a balance bike. These things are amazing!
My youngest son got a balance bike when he turned three in the fall. Within a week he was riding it so fast, he could keep up to his oldest brother, who at 7, had just learned to ride a two-wheel bike. We spent many, many months over the years trying to teach my oldest to ride his bike and he just wasn't getting it, and finally did at age 7. So, when my youngest took off on his balance bike at age three, we were quite amazed. He's been riding it since last fall and I know the next logical step is getting him on a pedal bike, since he has the hardest part - the balancing - down with no fear. Basically, these bikes take away the fear of staying upright on the bike.
My middle son was also having trouble getting the hang of pedaling on a two-wheel bike, so we set the seat higher on my youngest son's balance bike, and got him to practice for a bit. There were lots of fights between the boys because he "took my bike", but that paid off and now my middle son is riding his two-wheel bike with ease.
I love the design of these Bellelli balance bikes, as you definitely want a good quality bike for this purpose. I found these bikes at Balance Bikes Canada, and while they sold for the same price as Shop.ca, the shipping was a minimum of $15. You'll also get Aeroplan points with your purchase. If you don't like your bike, there are also free returns.
There are four different colours available, so you can tailor it to your kid's likes.
(Expiry: unknown)