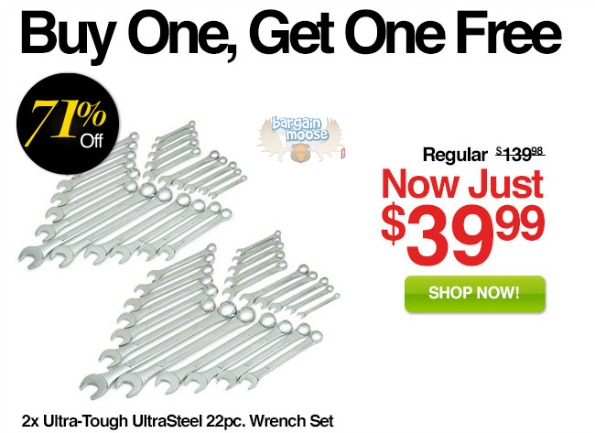 This deal is actually a double deal that will blow your mind. First off, the ULTRASTEEL 22 Piece SAE & Metric Combination Wrench Set is on sale, and then when you buy one you get another set free. When you combine the sale and the B1G1 free the deal adds up to 71% off. The original price for two sets would be $139.98, and they are on sale for $39.99.
You only need to buy one of them, because they already come bundled into two. You are essentially getting each set for $20.
Each set includes:
SAE Sizes: 1/4, 5/16, 3/8, 7/16, 1/2, 9/16, 5/8, 11/16, 3/4, 13/16, 7/8 in
Metric Sizes: 6mm, 7mm, 8mm, 9mm, 10mm, 11mm, 12mm, 13mm, 14mm, 17mm, 19mm
Roll-up carrying pouch
Because the sets cost over $25 you also get free shipping with this deal!
(Expiry: Unknown)