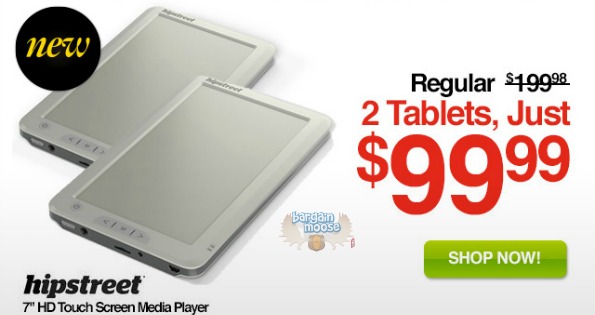 Get two Hip Street 7" high definition media player/eReaders for only $99.99 from Shop.ca, regularly $199.98.
You may have been wanting an iPad or iPod Touch, but you'll pay over $200 easily for these items. Plus, if the items are for your kids, you might want something more basic and definitely cheaper in case they lose it, get it run over by a car or lose interest. This is an amazing deal that will save you $100 off the original price of the players, and hundreds if you bought a different brand.
I have three kids, so when one gets something, the others always want it too. I could get this deal for my kids as an end of year gift for how hard they worked at school. My two-year-old wouldn't care, so two work perfectly for me.
With all the latest advances in portable entertainment, this high definition device can be used to read books, listen to music and watch movies and videos. It is lightweight with a 7" colour touch screen that allows for easy navigation. It is DRM enabled, so you can download easily and has 4GB of built-in storage, which is expandable with an SD card.
Shipping is always free from Shop.ca and if this is your first purchase, you'll save $25 and pay a total of $74.99! That's $37.50 a device!
Shipping is free for most items from Shop.ca.
(Expiry: Unknown)