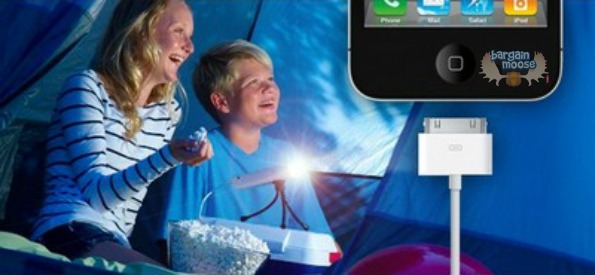 Shop.ca has an amazing deal on right now with the 3M HD camcorder and projector, with instant shoot 'n share, for only $119.96, regularly $169.99. This is cheaper than I saw it anywhere else. Plus, if you are a new customer and sign up for an account, you'll get a $25 reward credit so you can get it for only $94.96! Don't forget that you also get free shipping! You'll also get up to $3 in rewards for future purchases.
This little machine is totally cool. Not only can you record and capture anything you want in clear HD, you can also project those videos to show your friends at any time! Don't think this is a huge item either because it is small enough to fit in your pocket.
What's even better is that there is no downloading or syncing. You just point the projector at the ceiling, a wall or even a t-shirt and press the button to watch your fabulous videos. You can create a projection screen up to 65",  so everyone gets to watch the show and you don't have to crowd around a little camera screen.
If you're completely technologically inept like me, this is the easiest camera to use, ever. There are a minimum of buttons and they are clearly marked as to what they do. You can't screw it up!
If you are wondering what type of quality this inexpensive little device could record and project, it is known as a "tiny powerhouse", where you can watch a full-length feature film in beautiful and crystal clear HD. It also has a fixed-focus camera with LED flash and 4x digital zoom. It comes with everything you need like cables, conversion software and an operator's guide.
A 2GB memory capacity lets you record up to six 25 minute videos, but you can expand your memory with a micro-SD card.
(Expiry: Unknown)