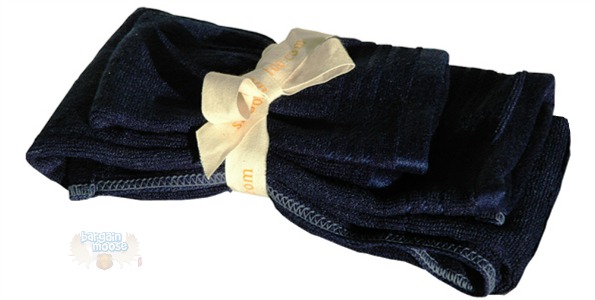 Shoo-Foo is a Canadian company that makes organic bamboo linens. We have posted about them once before (a long time ago). Right now, they are offering 55% off blue bamboo towel sets.
This company is based out of Vancouver Canada, they specialize in Eco-friendly and sustainable products made of organic bamboo. They rarely offer more than 10% off their products, so getting a few sets for 55% off is a very nice discount. While their products tend to be expensive, you are paying for a quality product that will last many years.
The blue sets are on sale for a reason. The blue dye used reduces the absorption of the towels below the normal absorption rate of their bamboo towel sets. A few washes will return the towels mostly back to their normal absorption rate, but Shoo-Foo has decided to dis-continue this blue dye. Thus, these sets are on sale.
You have two options. Purchase the 4 BLUE Guest Towels Sets (hand, face towels) set for only $28.80, which is 55% off the original price of $68. The set includes four hand towels and four face towels in the cobalt blue colour. Equip a guest bedroom or get new washcloth and towel sets for the entire family with this deal. I think this is a very good price as you are getting eight towels in total, which works out to only $3.60 a towel. You generally cannot get regular hand towels for that price, let alone organic bamboo ones.
The second option includes the larger bath towel. The 2 BLUE Bamboo Bath Towels Sets (bath, hand, face towels) is a great set on sale from $96 down to just $43.20. The bath towel measures 30" by 60" for a nice sized towel to wrap around you after a nice warm shower (or cold shower in the hot weather). This set includes two bath towels, two hand towels, and two face towels in cobalt blue. It would make a great gift for a couple or buy it for your own master bathroom.
All of these towels are super soft and amazing quality. They are made of 100% viscose from organic bamboo at 600 gsm. I own bamboo towels and they are very much softer than our other towels. They also are lightweight and don't take as much space in the closet as our other bath towels, which is a plus for me as we live in a small apartment.
Shipping depends upon where you live and how much you are buying. My cart came in at $12 in shipping fees to Vancouver Island.
(Expiry: Unknown)