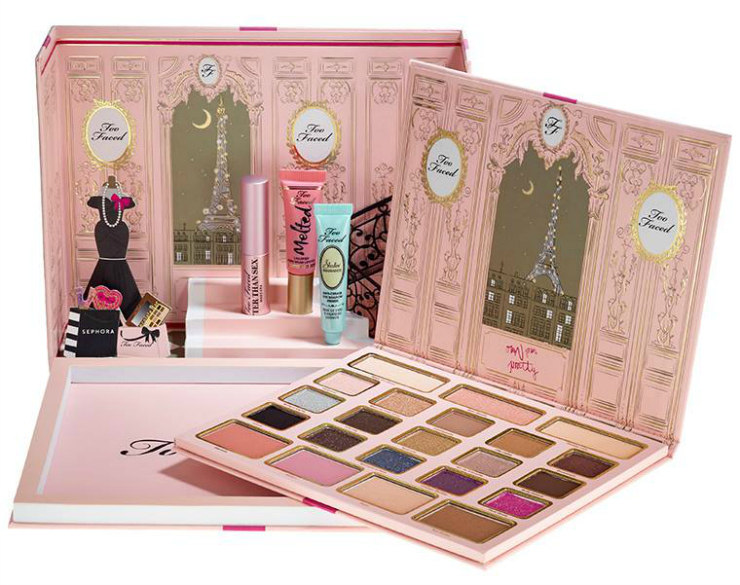 Attention all makeup lovers! Only 2 days left to use the exclusive Sephora Beauty Insider Loyalty Reward. For those who haven't heard, Sephora has sent a $15 off coupon on your purchase of $50 or more to all Sephora Beauty insiders. Free shipping is also available on orders over $50.
This is a great deal considering Sephora only has a handful of sales per year. If you are Beauty Insider and haven't received an e-mail with the coupon, it's worth contacting Sephora since this deal is available to all Beauty insiders who have opted into the program before October 15th. If you aren't a Beauty Insider yet or have joined too late, it's worth asking a friend who may not be using theirs but hurry, the coupon expires on December 13th and is only valid for a one-time use.
On top of this great coupon, Sephora has a great selection of value deals just in time for Christmas. Amongst my many favorites is this Le Grand Palais value set by Too Faced Cosmetics. It has a $479 value and sells for $72. It contains some of the most amazing Too Faced Cosmetics products like the better than sex mascara and the deluxe melted lipstick , which everyone has been raving about. The palette also has a variety of eye shadows along with two blushes, one bronzer and one highlighter. Each shade is pretty in the next, they are all shimmery and soft in the spirit of the holidays.
Now if you are looking for a gift, there's so many cute sets to choose from, like this Bumble and Bee surf set at $37. It's a great way to try the popular brand without purchasing the full-sized products. This small set also makes for a nice travel-size kit. This is only one of many deals available in the gift section, with many of these deals going for under $25.
Alongside your purchase you can also get a free deluxe mini sample with the code MERRYMINI. There's a different sample available everyday and if the one available doesn't appeal to you, you can always get three regular samples instead. Altogether, I'd say the $15 off coupon, with the samples along with the value sets make for a pretty good deal. Get it while it lasts, the coupon expires on the 13th of December in-stores and online. Happy shopping!
(Expiry: 13th December 2015)