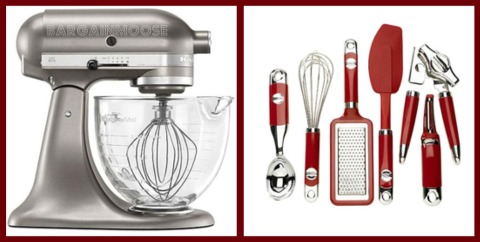 Sears Canada is currently having a lovely sale on Kitchenaid small appliances, where you can save 25% off select items. To see the entire sale, click here. When I was browsing I ran across a most impressive deal if you are a Kitchenaid fan, a KitchenAid Architect Series Stand Mixer with Glass Bowl and a bonus 6 Pc Gadget Set. The usual price (without the thrown in gadget set) is $549.99, and it is on sale for $349.99... you save $200!
Not only do you save $200, but you also get a nice 6 piece gadget set that a Euro Peeler, Ice Cream Scoop, Utility Whisk, Silicone Mixing Spatula, and Can Opener. These pieces aren't cheap, I just got a KitchenAid can opener about 6 months ago and it was around $20. The other pieces can't be far off that mark.
Though I have never used a stand mixer before, I can understand how great they would be, like last night: I was baking a chocolate chip date loaf and it asked me to cream the butter and sugar, no problem.. and then beat in the eggs, one at a time. So pretty much I had to cream the butter and sugar. Turn off the mixer. Put down the mixer. Break open an egg, put the egg in. Pick up the mixer, mix it in. Then repeat the process for the second egg. With a stand mixer I could have just broken in the eggs at my convenience without having to turn anything off or put anything down. Heavenly.