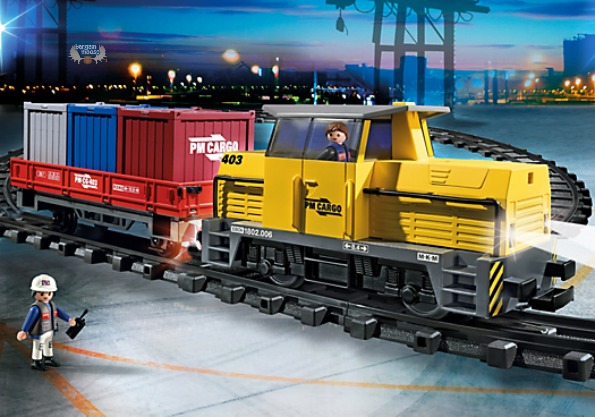 If you are a fan of Playmobil, this deal from the Sears Outlet might excite you, just a little bit. It excited me! Get the Playmobil freight train, regularly $144.99 for only $79.94.
If you aren't a fan of Playmobil, because you haven't yet heard of it, you are in for a treat. Playmobil is the perfect toy for both boys and girls and in our house we have at least 30 sets. All three of my kids love it, no matter their age. While this toy isn't meant for babies, my younger boys have been playing with it since they were about two years old. They did need some assistance though, as the parts come apart easily as part of the fun is putting the sets together (just like LEGO). But, this is better than LEGO I think, because the sets are more realistic.
Most little boys love trains and this is no ordinary train set. It comes with 61 pieces, which include tracks, cargo containers, figures and lots of other small realistic pieces. It also has a remote control to control your train, which is a nice feature from Playmobil.
If you do know Playmobil, you know that it really doesn't go on sale for more than 20% off. This discount equals 40%. While I think this is an older set, it is still Playmobil all the same and if don't care about having the latest and greatest sets, this would make a fabulous birthday gift for a deserving kid. Plus, it would be cool to have a set that all of your kid's friends don't have.
The only other place I could find this exact set was on Amazon, where it sells for $152.You can also buy it at Playmobil for $160.
While there are no reviews on the Sears website, there is one rating of five stars. If you look at Amazon, you'll see the reviews, all of which also give it five stars. You can't go wrong with this set.
Sears offers free shipping at $99, so you'll either want to spend another $20 or pay about $7.50, which still makes this deal worth it with the savings you are getting. You could take a look at this roasting pan I posted this morning to get your cart more full.
(Expiry: Unknown)