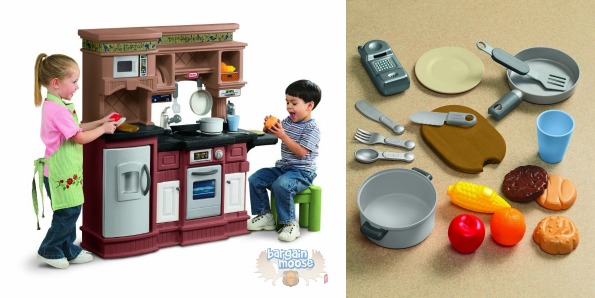 One of my kids favourite toys as toddlers was their play kitchen. That thing got so much use and not just from my kids, but by other kids who came over. I found a fantastic deal at Sears right now on the Little Tikes Gourmet Prep 'N Serve kitchen that was $119.99, on sale for $89.99. Add the coupon code941612443 for an additional $10 off your $75 order, which brings this kitchen down to $79.99.
I think this makes the perfect gift from Santa. Imagine your child's eyes waking up Christmas morning with this all set up and waiting for them to play with it. It might even give you time to make a coffee and brush your teeth before they want to rip into the other gifts. I have to say that prices for these kitchens have come down a bit, as I spent over $200 on mine nine years ago and it was a similar size. Other Little Tikes kitchens of this size sell for about $100 or more. This ultimate cook kitchen at Toys R Us is even a little smaller and sells on sale for $120. This Step2 set from Sears is around the same size with maybe extra features but sells on sale for $197.99 ($187.99 with coupon).
The Little Tikes kitchen is a good price point for a kid's "big gift". I also like that it is large enough that two kids can play with it at the same time without getting into a scrap. Believe me, this can be a problem no matter how docile your kid is. I have seen full out hair pulling and biting at playgroup over if the fridge door should be left open or not. It gets nasty when you are two years old.
This one includes all the modern kitchen features you probably want in a kitchen like stainless steel appliances and granite counters, but even more importantly it has some kitchen accessories like a phone, corn cob and cutlery. Add the AA batteries to hear some life-like kitchen sounds too.
I like this product because it is fun for the kids and does not take up too much space. It has similar colors to our kitchen and the kids really feel like little chefs.

The only kicker, if you can call it that, is that the shipping is as much as the kitchen! But, you can pick this up from any Sears location and that doesn't mean the store. There are Sears pick-up locations everywhere. I live in a small town and I have one within a 2 minute drive of my house. I actually think this is a much better option than having it delivered to your house with the chance that your kid will see the box and spoil the surprise. It has happened to me, so I'm leery of home deliveries of toys. This way, you can pick it up without your kid, get it hidden and not have to worry about ruining the surprise.
(Expiry: Unknown)