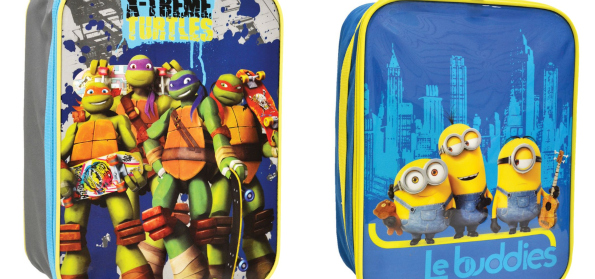 Sears Canada is offering 70% off the MINIONS Kids' Roller Luggage. Originally $29.99, this piece of luggage will cost you just $8.99 today only! This is just one of Sears Canada's many amazing Cyber Monday deals on right now. I also found this Teenage Mutant Ninja Turtles Kids' Roller Luggage on sale from $19.99 down to $5.99. That is 70% off as well - just a lower starting price. Pick up one or both of these luggages at Sears Canada today!
This is a hot luggage deal for your kids. It combines their favourite characters with a piece of essential and useful luggage. This luggage is kid-sized so it measures about 15.5" tall. It is perfect for them to haul behind them when you go to visit the grandparents. It is also a great size for your child to take everything they need with them to a sleepover. At just $$5.99 to $8.99, it is not going to break the piggy bank either.
If money is a concern, then pick up the Teenage Mutant Ninja Turtles Kids' Roller Luggage for a few dollars cheaper. In fact, why not just buy both pieces of luggage so you have a spare when one breaks down or gets really abused. EVEN if you bought both pieces of luggage, you would be spending less than $15 before tax. That is unbelievable!
Both pieces of luggage are soft-sides - these are not hard size luggage. The original starting price certainly reflects that and I don't see how one could complain at their current price. Even if it only lasts a year, you will still have paid a phenomenally low price for its service.
Now, Sears Canada offers free shipping on orders of $49 or more. I suggest shopping the rest of The Sears Cyber Monday offers while they are still up. If you just want to buy this luggage - both or one of them - then I recommend getting your order shipped for free to one of 1300 Sears Canada and Sears Outlet locations across Canada.
Deals like this won't last long my sweet Moosers. Let me know if you manage to score one of these bags.
(Expiry: 30th November 2015)