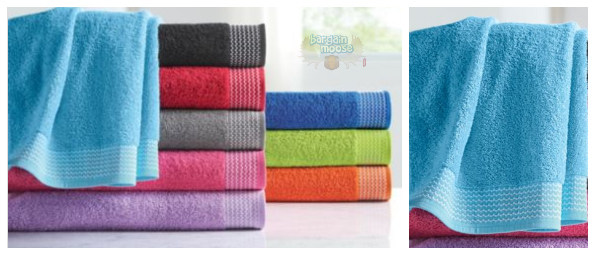 I am not sure that towels ever wear out unless you have pets, but Sears Canada has a very good deal on the Cambridge 'Keswick' Ringspun Cotton towels. The bath towels, matching face towels, and hand towels are all 60% off their original prices!
I like this deal for many reasons. First, you can buy an entire matching set of three towels for a fraction of the regular price. Second, you can choose from so many different colours! The Cambridge towels come in nine colours including orange, grey, pink, blue, and more.
Bath Towel- Was $24.99 | Now $9.99
This towel measures 27" wide by 52" long. This is your basic towel for drying off after a shower or after a trip to the pool. I also tend to use these for mopping up really big spills (like my entire water bottle worth of water) on the floor.
Hand Towel- Was $12.99 | Now $5.19
the hand towel measures 16" wide by 28" long. Use these towels in your bathroom for drying wet hands. I also use one of these in the kitchen as hand towels are way more absorbent than dish towels. I do not get this whole fad with dishtowels where they just smear the water: they do not actually absorb it. Hand towels are better.
Face Cloth - Was $8.99 | Now $3.59
The face cloth, or wash cloth as I call them, measure 13" square for ample coverage. Use them to remove makeup, wash dirty hands, and more. I love the absorbency of face cloths as opposed to other cloths. Therefore, I often use them for cleaning, dusting, washing dishes, and more. These are versatile little squares of absorbable fabric.
There are three reviews with two - very positive - and one negative. One of the positive reviewers said:
soft towels for the price cheerful colors to brighten up your bathroom
The negative reviewer had issues with the brand-new red towels shedding (lint!). The reviewer evidently washed his brand new red set with the grey set. When dealing with red dye, you really should wash anything new (and red) alone without other colours. Red is a very powerful dye and it really needs the first wash alone.
While you receive free shipping on $49, you are better off just having your new towels shipping - for free - to your local Sears drop-off location. There are 1300+ across Canada.
(Expiry: unknown)