I am not sure if Newberry dolls were an answer to the American Girl at Chapters or if they came before it. However, Newberry dolls are large 18" dolls with great fashion sense that any girl would be pleased to receive. The dolls vary in price, but all dolls are now 40% off today only at Sears Canada. We also still have a $10 off $25 coupon code- 941612495 - for an extra discount on your order that really makes these dolls quite a nice deal.
Each doll has beautifully detailed features, movable joints, unique clothing, and a great personality to go along with it. Pick the doll that most closely resembles your child or just pick the one they will like the best. The 18" dolls range from $17.99 to $29.99 on sale as they were originally $29.99 up to $49.99. There is also a baby line of dolls that are just 14" tall. Originally $29.99, they are each on sale for $17.99.
Let us start with the more expensive dolls. The Newberry18" Doll - Noelle is the perfect Christmas doll for your little girl. She comes in a gorgeous red ball gown and has various accessories including a white faux fur bolero, hair-tie, handbag, Christmas stocking, gloves, shoes, and necklace. Originally $49.99, she is now on sale for $29.99. After coupon code, this doll comes down to just $19.99.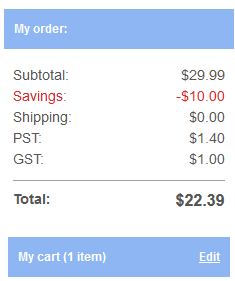 Some of these dolls have really cool accessories. The Newberry 18" Doll - Travel Girl Avery comes with a huge selection of extra including: cap, furry vest, patterned tee, leggings, snow boots with furry trims, wheeled luggage, amenity bag with towels, bottle, hair brush, pretend camera and tablet, passport, ID, and credit card. This girl is simply loaded. Originally $49.99 and on sale for $29.99, you can use the coupon code above to bring Avery and her accessories down to $19.99.
While looking at dolls, I couldn't help but be drawn to this Newberry 18" Doll - Abigail as her name is pretty close to mine. I like dolls that are named after me - or close enough. Originally $29.99, Abigail is on sale for $17.99. Of course, the deal is better if you can use the coupon code so I would add on Newberry 18" Doll - Lily so that Abigail had a friend. Lily is also on sale from $29.99 down to $17.99 so both dolls together would cost $25.98. For two large 18" dolls - this is a phenomenal deal.
(Expiry: 13th December 2015)