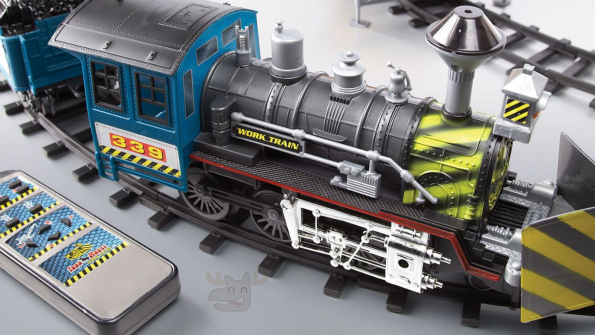 Remote control trains are one of the coolest toys ever to receive for Christmas. They do not even need to be wrapped up. Simply set the toy up at the base of the tree and your child can see their gift encircling the tree the second they get up! This GOLDLOK 'Iron Horse' Remote-Controlled Work Train Set was $55.99 but is now on sale for $27.99. Use coupon code941612464 for an extra $10 off, thus bringing your new remote-controlled train down to only $17.99! Sears Canada offers free shipping to over 1300 Sears Stores and Sears Outlet locations.
This is a pretty hot Christmas gift, am I right? This 50-piece set is huge and comes complete with one locomotive, three decorated cars, one controller, two junction tracks, eight straight tracks, and 32 curved tracks. There is a total of 24 feet (730 cm) of total track length! This set is AWESOME!!! <3

The remote control allows you to make the train go forward, reverse, and stop. The crane car turns and loads cargo and it includes 1 coal car, 1 coal car and 1 low-side gondola with 2 loads. There is a master infrared controller, which operates both the train and the track functions. The locomotive makes a train sound and has lights as well.
Essentially, this is a huge train set for an extremely low price and you MUST pick it up and make some big kid or little kid giddy with joy! The 'Iron Horse' train is styled like an authentic work train and will give you and the kids hours of fun driving the train, loading up the train, and more. This toy is designed for children ages 4 and up. One reviewer said:
Fully remote controlled - the train goes back and forth and the track switches are also remote. You can even load boxes onto the train using just the remote. Very fun.

The only downside is that this train set requires 13 AA batteries, which are not included. OUCH. However, it is well worth the expense given the massive discount on this train set. I am practically giddy myself as this is a toy I would have loved as a kid.
(Expiry: unknown)