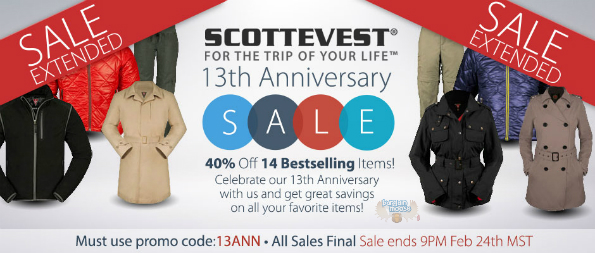 Nerd assemble! Scottevest is having a sale! 40% off their 14 best selling items. Like a boss.
Click to shop @ Scottevest.com
Coupon Code: 13ANN
Discount: 40% off 14 best selling items
Expiry: 24rd February 2014, 7:00PM ET
If you don't know about Scottevest, sit back, you're about to be learned! Scottevest is a company that was started by Scott Jordan (Scott eVest, get it?) to enable your technology and clothing to work together. It started with the Scottevest a, wait for it, vest that had tons of pockets to hold your gear. From there a whole line of clothing bloomed.
This company is all about pockets. When you add items to your cart, they tell you how many pockets you have in your cart. At the top of the site they tell you how many pockets they've sold altogether. As of right now, they've sold 10,058,539 pockets.
If you still aren't getting it, check out one of their items, the Fleece 7.0 Jacket, for example. Click on the pocket map and see how they have integrated 23 pockets in to this jacket. Pockets for cameras, pens, tablets (yes, full tablets), phones, ear buds, memory cards, documents and way more stuff. There is a loop in it for your water bottle, a tether for your keys and even a chamois on an elastic cord attached to the inside of the glasses pocket so you can wipe down your stuff. I'd keep on writing but I'd have an eight page article on all the features. Check out the site for all the cool stuff their clothing has to offer.
Now, the downside of all this is that it is really expensive and they rarely have sales. Well, expensive for me. $160 for a fleece jacket, no matter how cool it is, is a bit much. Luckily, that coupon code up there gets you 40% off of a bunch of cool items. They are offering this discount on 14 of their best selling items including a lot of stuff for women. Very stylish (to me) looking stuff, too. Coats, shirts, pants, shorts, it's all there.
Shipping is based on what you get and where you are. It's a little pricier than some places but the deals in this sale are very much worth it. It does ship from the U.S. so you may encounter duties and all prices are in USD.