ScamStuff: Learn The 3 Coin Trick From Magician Brian Brushwood For Free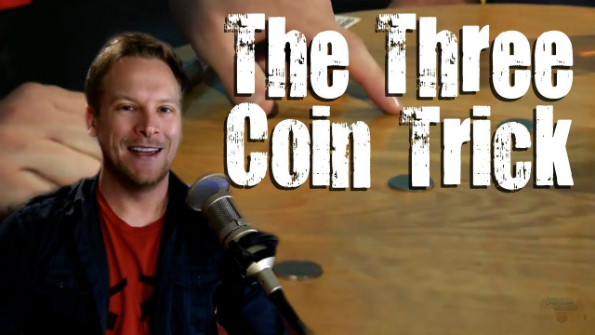 Blow your family away this Christmas with the Three Coin Trick from Brian Brushwood!
Click here to get your free magic lesson @ ScamStuff.com now
Coupon Code: SCAMSCHOOL300
Discount: Free Extra Credit Episode
Expiry: 15th December 2013
I really like magic, but I hate not knowing how it works. I'm just like that. I always need to know how things work. That's bad, when I'm watching David Blaine or something on TV. When I'm watching Brian Brushwood on Scam School, though, I get to learn how the tricks work.
Some of the tricks are too in depth or long to go into on one episode of Scam School. That's where the Scam Stuff Extra Credit episodes come into play. These are digital downloads (so no shipping fees!) of tutorials where Brian teaches you something that is a bit more in-depth. In this case, I'm talking about the very cool Three Coin Trick. It's normally $1.99, but this coupon code gets it to you for free in celebration of the 300th episode of his show Scam School.
Christmas is coming up and it would be pretty cool, I think, to use this at your family gatherings to have a bit of fun.