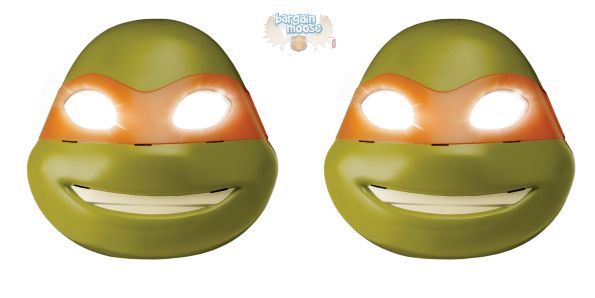 This Teenage Mutant Ninja Turtles mask is the ultimate dramatic play toy. You need to check out the specs on this. Over at Amazon Canada, the Teenage Mutant Ninja Turtles Electronic Mask was $34.99 but is now on sale for only $8.52! Be quick before the price rises again! Shipping is free on a $25 spend at Amazon, but if you have Amazon Prime, it will ship for free.
The pizza-loving Teenage Mutant Ninja Turtles have been making a major comeback in the past few years. Who can blame the kids today for wanting to be a pizza-loving turtle that fights crime with ninja weapons? If your kid is a fan like several of the kids I know, then you need to grab this awesome toy.
This mask is the face of Michelangelo, or Mikey as he is sometimes called. You can tell Mikey apart from his brothers by his orange eye mask and fun loving attitude. He usually sports nunchucks when fighting bad guys, which is super hard for anyone to resist pretending to be him. Just yesterday I was wishing I had a pair of nunchucks. From my internet research, this mask has both a friendly mode and a crime-fighting mode which changes the electronic eyes from friendly to "ready for battle." The mask will also say multiple different phrases such as "Turtle Power" and "Bring It On."
The description on this mask is a generic description of the Teenage Mutant Ninja Turtles, which is why I suspect this item is on deep discount now. I also suspect the last line about the mask including a Dragon Bike with a foot soldier is incorrect and possibly an error, as it seems very inconsistent with the toy. I found several places on the internet including this YouTube video from TTPM that gives you a better idea of what these masks looks and sounds like.
Toys R Us Canadasells this mask for $29.98. I also noticed that the description on Toys R Us Canada for the item is exactly the same as on Amazon Canada except it does not include the last weird line about including a Dragon Foot soldier. If you want a cheap piece of plastic that has no sounds or light up eyes, Walmart Canada carries a super basic version for $12.97. Every other option I found for Ninja Turtle masks included a full costume, most of which start around $50 and only go up in price.
This mask is an awesome toy. Those light-up eyes would be amazing for Halloween trick or treat, and I can see a kid having many hours of fun with this mask. Since Michelangelo is the fun loving turtle, many of the phrases included should lean towards the funny side rather than the fierce warrior side. This item is not available many places in Canada, and you surely will not find it on deep discount again easily. I have included the commercial about this toy so you also in case you need yet another reason to be excited about this mask!
Image credit: Amanda Tipton
(Expiry: Unknown)