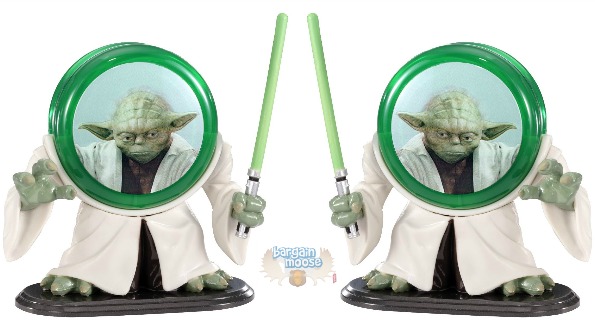 May the force be with you and the string stay untangled. Check out the awesome Yomega Yomen Yoda Yo-yo I found today that is 70% off! This yo-yo with stand was $25.75 but is now only $7.83.
Bargainmoosers, I have a treat for you today like none other. I will admit that doing yo-yo tricks is not currently high up on my list of skills. With this yo-yo, I may just have to try. Check out this Yomega Yomen Yoda yo-yo. That is fun to say three times fast. This amazing yo-yo is part cool toy, part Yoda collectable figurine.
Now normally I just leave my yo-yos lying around, but this yo-yo encourages you to put it back on the display stand when you are done playing. With Yoda's head on the yo-yo, Yoda will fully shows off his stance once the yo-yo is put back on the base. Included is a fireball yo-yo, which from skimming the web seems to be known as a beginner yo-yo for those of you interested in learning tricks.
After quite a bit of searching, I did manage to find one other place in Canada you can purchase this toy. Over at Mastermind Toys, this Yoda yo-yo is selling for $24.99. That is the only major Canadian retailer I found who carries this product. Over the border in the US, Amazon.com is selling this Yoda yo-yo for $14.48 USD, and you would have to pay shipping to Canada and possible duty fees. This is a much better deal at Amazon.ca right now.
There are no reviews that I can find on the Canadian side of the border for this yo-yo. Over at Amazon.com, there are six reviews and they all seem happy with the purchase. Buyers are reporting that is a sturdy design overall so you should not have to worry about it falling apart or the lightsaber breaking off right away. Several people are noting that their kids loved the toy.
This item does qualify for free super saver shipping at $25, so I would suggest pairing it with another item. If you have bought into Amazon Prime, it ships free. If you have multiple kids, four of these yo-yos purchased together ship free. If you have a huge Star Wars fan, there are several other yo-yo designs on Amazon.ca but they are not on sale. Shipping if you want just one yo-yo is $4.59, which is still cheaper than if you purchase this at Mastermind Toys or Amazon in the US.
If you have a Star Wars fan in your house, I may have just found your next present. Though it is early to whisper this, I would stash this unique item away for the holidays. You could also use this to liven up the end of summer boredom that sometimes sets in. I think this is a perfect gift for kids age seven to twelve, or for the serious Star Wars fan.
(Expiry: Unknown)