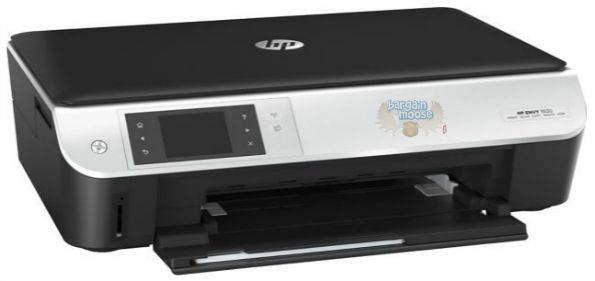 I found a swell printer deal just in time for back to school. Check out the HP Envy 5530 Inkjet All-In-One Printer. This little printer started at $129.91, but Staples Canada has it on sale right now for only $39.91! Staples has also thrown completely free shipping into the deal for this printer, making it quite a little steal.
This HP Printer is just the right price for a compact little printer for school work or home use. A wireless printer that can also scan and copy is essential for most families and students these days. Make sure you are well stocked before the big school projects start for the year. You know  there will be at least one frantic night where your kid mentions a report due tomorrow... at 7 pm the night before! Don't get caught without a way to print easily.
This printer can print, copy and scan with ease. Connect it to your computer or devices using AirPrint (Apple) or E-print (Windows & Android). A touchscreen right on the printer allows you to copy and scan without hassle. This printer will read from an SD card, and can print double sided at a speed of 19 seconds for a black and white page or 24 seconds for colour. There is a limited manufacturer's warranty on this printer for a year should you run into trouble. I personally picked up a similar HP Envy printer and have been very happy with my purchase, it has been a solid buy. I have not seen this good of a deal on printers in the Envy line since I purchased back in February.
One of the first questions I always think about when looking at a printer is ink prices. How many of us have picked up a cheap printer, only to find the ink costs almost as much. HP Canada has an awesome Instant Ink subscription you can sign up for, and this printer qualifies. The plans start at $3.99 per month, and range up to $10.99 per month depending on how many pages you print per month on average, plus include recycling and shipping. This is a fab way to ensure you are getting a great price on your ink throughout the school year, and I have found it quite useful and convenient to save on ink costs for my own Envy printer.
I found lots of other retailers carrying this printer, but no one has a sweeter deal than Staples Canada does right now. Check out the list:
Staples Canada by far has the most amount of reviews on this printer, with over 549 people weighing in on their purchase. This printer is carrying a strong four and a half star out of five-star rating. Most people seem happy with this inexpensive option. Here is one reviewer:
I had to replace my HP printer which I really liked. I bought a HP Envy 5530 printer and I really LOVE it. Even the smallest print is clear and easy to read. I guess when something not so good happens, something better comes along. I am very happy and I know I will enjoy using this printer.
This is a solid buy if you need a new printer. If your current printer is on the way out, it is time to upgrade before we head back to school and into fall.
(Expiry: 11th August 2015)