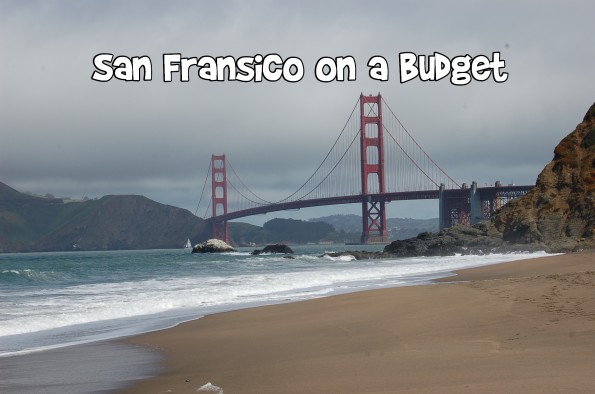 I just got back from San Francisco and it is an amazing place to visit. It was voted the #3 best place to visit in the United States this year on Trip Advisor. I can tell you, it is for good reason. There is so much to see, do and eat in this city, and its history is immense. But, considering it is California, which can be expensive, you'll want to find ways to save your money and I'm going to tell you how.
When to Go
San Francisco is hottest in September, which makes it a prime time to go for weather and less crowds, as it is the busiest during the summer months. Off-season of December, January and February make it the cheapest time to go in terms of hotels. Plan to be there on a first Tuesday of the month as a number of museums waive their admission fees.
Places to Stay
First of all, you'll want to find somewhere to stay and being a large California city, you are going to pay for it. I searched many of the hotel deal sites and found the best deals on Orbitz. I used a promo code and got another 15% off on top of the deals they already had, which were cheaper than just reserving directly online with the hotel. Space is limited in this city so expect a very small room. The best deal my husband found was for a hotel that only had room for queen sized beds. I opted out of that one, as he is a bed hog and I need my space for sleeping. Use Trip Advisor to find reviews of your hotels and to compare prices with other deals sites.
Depending what you want to do, staying closer to the action will save you the most money as you won't need to pay extra for cabs or other forms of transportation. We stayed near Union Square, but as an afterthought we think Fisherman's Wharf would have been better for us since we weren't there to shop and it had quite a bit more action. San Francisco is extremely hilly - I actually couldn't believe how steep those hills were - so if you plan to walk, be prepared for sore calves. I did find that staying near Union Square or Fisherman's Wharf you could get to most of the places you might want to see with walking. The airport is fairly far from the city centre, so even if you are saving extra money by staying near there, you'll lose it on transportation costs.
Make sure the hotel you do pick includes parking, wi-fi and breakfast for the best deal, although these may be hard to find. If your hotel doesn't include these amenities, factor this cost into your final hotel cost.
Getting Around
Since we are on the subject of transportation, lets talk about this prime expense. Parking is very expensive in the city and also hard to find. Our hotel charged $50 a night for parking, which I wish I had researched before hand as it definitely impacted my budget. We rented a car because we were leaving to drive the coast and thought it might be easier to just leave from the hotel. It definitely wasn't the cheaper option. If you are only staying in San Francisco or willing to pick up a car in the city or go back to the airport to get one, you won't need a car for your San Francisco stay. Most neighbourhoods are walking distance, or are accessible by the BART (their bussing system) and the historic trolleys run right through the city for only $2 a ride. There is also a rapid transit system that leaves from the airport and drops off in the centre of the city, which is also very inexpensive. It is much cheaper to do this than take a cab from the airport. If you are taking the rapid transit (MUNI), then consider its drop-off spots when you book your hotel as well.
Things To Do
There is so much to do in San Francisco. The cheapest thing to do is to walk around and see the city. We walked through Chinatown, North Beach, Embarcardo, the Financial District and Fisherman's Wharf in a day. We also walked down to Baker Beach, which is just under the Golden Gate bridge and provides beautiful photos. Just walking through the neighbourhoods was one of the favourite parts of my trip because of the friendly and lively people (especially in the Haight-Ashbury district) and the amazing architecture and history of the city. By the end, we were tired and took a cab back, which was only $6 to our hotel and well worth it as our hotel was on top of a very steep hill.
In our travels we found some free activities to do as well, like visiting the cable car museum, city hall (which is only free on certain days), Coit Tower and Musee Mechanique. Lonely Planet lists 25 free things to do in San Francisco. Instead of hiring a guide to walk you around the city, save your pennies and get the public library to do it for you. These tours run daily (five times a day!) and are completely free, or you can leave a donation.
If you are interested in activities that might cost you a bit of money, there are ways to save on these too. We did the Alcatraz tour, which we booked ahead of time at home as these tours fill up quickly. While we paid full price, by booking ahead of time it didn't take out of our trip budget at the time, and it was well worth it. You can stay as long as you'd like there, so you really can make a full day of it (except that food isn't allowed). Check out the CityPassfor San Francisco, as it will save you 63% of the cost of four major attractions including transportation passes. It is actually cheaper to buy the CityPass at Costco and the price is in Canadian funds, saving you even more.
The Golden Gate Bridge is a must-do and you can walk across, drive across or bike across. We opted to drive as it was so cold when we went, I couldn't imagine that wind getting me any longer. Parking was free on the other side of the bridge, but I do believe there is a toll to cross, although it seems it is automatic on your vehicle.
Eating
Ah, eating, my favourite thing to do. I was very excited going to California for all the eating I was going to do. I also knew that my eating would comprise a large portion of my budget. Unfortunately, I struck out a little bit with some of the restaurants. One restaurant I really wanted to eat at had no reservations available online a month in advance, but did state that it would take a limited amount of walk-ins. We got there and found the restaurant (it had no sign), but it had a big line already, 45 minutes before it was set to open. We waited and when we got in, they said they couldn't seat us for another two hours. I was so disappointed. If you have a restaurant you really want to eat at, try hard to get a reservation or expect to line up. It seems there are line ups for restaurants all over the city.
The cheapest eats we did find were actually really good. The best place we found to eat was at the Ferry Building Marketplace. The food was so delicious at all of the little stores and you could get small bites at each place then move on, filling up easily. When we couldn't get into the above restaurant, I used the UrbanSpoon app to find what else was close by. We were in Japantown, which had a number of noodle and sushi restaurants with very cheap eats. We ended up going to Benihana, which didn't have a table for us, so we took a seat at the bar, which was having happy hour and got some very cheap sushi and drinks. Research what restaurants have happy hour, as this is a great time to score discounts on food. Inside Scoop SF lists the best cheap eats in San Francisco for 2013.
We also found that restaurants were cheaper for drinks and food outside of the tourist areas, so if you are willing to explore, you might find a gem. I ate some really amazing stuffed dates wrapped in bacon at this little bar we found and the drinks were very cheap there.
For drinks and snacks, don't give in to temptation and open that bottle of water in your mini-fridge. My husband did and it cost him $4. Also, don't buy these items from your hotel as the mark-up is nuts! Find a little store and stock up. If your hotel does offer you a free bottle of water or snacks (read the tags to make sure), take those bad boys and store them away for your trip!
Shopping
If you've come to San Francisco for shopping or need to pick up a few souvenirs, the best place to do this is in Chinatown. As I said, we did the Alcatraz tour and the souvenirs were so expensive on the island, but I found the same ones in Chinatown for a much discounted price. They also have other items you might want to think about buying there, like a cast iron teapot, which is $80 in Canada, was only $40 there. As for clothing, you can expect that nothing is very cheap in the city. You can check in the Haight-Ashbury district for vintage and consignment stores, as this is a hippie district and there are plenty of them.
Bargainmoosers, do you have any tips for visiting San Francisco on a budget? Let me know in the comments below!
Photo Credit: Eva Webster