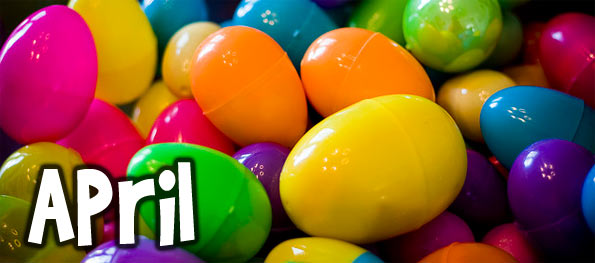 This year is going by so fast and it is April already!  Of course, a new month means new sales cycles for big savings. At bargainmoose, we do our best to make sure you know about all of the great Canadian deals out there.  Of course, we post the awesome deals on our blog but there are always some great coupon codes in our coupon forum added daily as well as some awesome deals on the hot deals forum for you to take advantage of.
This month has three major events that the sales seem to follow.  In the month of April, we have Easter, Earth Day and springtime. Most of the great sales will revolve around at least one of these events.
Seasonal Clothes: Since we are already into spring, the stores are already trying to stay one step ahead and they are already starting to bring out their summer clothing.  This means that the winter clothing is on its way out of the stores and will be discounted hugely.  Stores will have sales on winter shoes, coats and clothing to make room for the spring and summer clothes.
Electronics: This month, the major electronic deals will be computers and cameras (and accessories).  Just like in March, the cameras and camera accessories are on sale to make room for the new lines and new additions.  If you don't mind buying last year's model or version of a camera then you can get some really great deals.  Jodie posted a great camera deal that The Bay has on right now with items at 50% off. As for Computers, they are on sale for the same reasons.  The old stock needs to go to make room for the new stock and newer versions to come in.  Dell Canada has been having some really great computer deals for this reason.
Earth Day Items: Because Earth Day is in April, you can find some great deals on Eco-conscious products and Energy savers.  You will also find items such as gardening and outdoor accessories on sale as well. BBQs are a big one because they require less energy to cook.  Lawn mowers are also a big sale in the month of April because like BBQs, they are a big Spring item that takes up a lot of space.  Stores want to get last year's stock of these big items sold so that they can make some room for the new models.  We just got a new BBQ on sale for just $300 (regular price was just over $600) at Rona because it was last year's model.  We got this sale in store but these kind of sales are both online and in store.
Travel: Summer is the peak vacation season because most kids are out of school.  That means that airlines and hotels often raise their prices just for the simple fact that they can. One of the ways to save money is by planning ahead and booking those vacations now.  You can save money by booking two or three months ahead of time. This month, you will probably see a lot of coupon codes for airfare and travel deals.  For example, Porter airlines has a coupon code for 50% off all base fares right now that was posted earlier on the Bargainmoose.  Make sure to check out the Blue tag deals over at West Jet every Thursday for additional deals on airfare and travel packages.
Home Improvement: With April bringing the warm weather, many people are doing their Spring cleaning and having garage sales to get rid of the old.  I know we get in the mood for a big clean up in the yard and organizing our house.  We also like to go around the house and fix up any odds and ends like paint touch-ups and cleaning out the garage.  Items such as wall paper and paint and any other type of home improvements items go on sale for this reason.  People wanting to sell their homes do a lot of fixing and refreshing of their house so they can get their house on the market by summer.  Because of this, a lot of stores have great deals on these home improvement type of items.
These are a few different deals for sale cycles that you will be able to find in the month of April. Let us know if you know of some more!
Thank you to .imelda for the picture.