Sale 4 The Day Canada: Shamsorb Miracle Sham Cloths – Set of 8 For $4.99, Today Only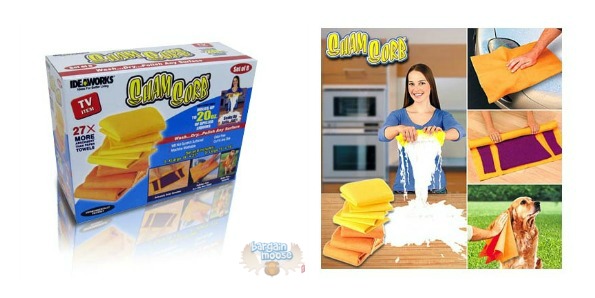 Sale 4 The Day Canada is offering The Shamsorb Miracle Sham cloths, set of 8 for 76% off regular price today only. There is a limit of 3 per customer and sale ends tonight.
I know we've all seen the commercials, but I do have these and they are quite awesome. The set includes 3 extra large (19" X 27") and 5 large (15" X 5"). I have kept the the large in their original size, but I cut up one of the extra large to have 4 smaller ones in my kitchen for little spills.
Having a small dog and grandchildren, I always have a little mess to clean up and these shams come in handy. They really do hold a ton of liquid and the spot they clean is almost entirely dry instantly. I haven't done the math exactly, but I know it saves me a ton on paper towels, making them environmentally friendly.
When I take my dog out in the rain or wet morning dew, I just use a small piece that I cut out of the extra large sham, and that drys him sufficiently before coming back inside.
A small word of caution: these are machine washable, so you can use them over and over, but don't put them in the dryer. That seems to take away the absorbing capabilities.
Shipping: $4.99 flat rate per item.
(Expiry: 23rd October 2012)