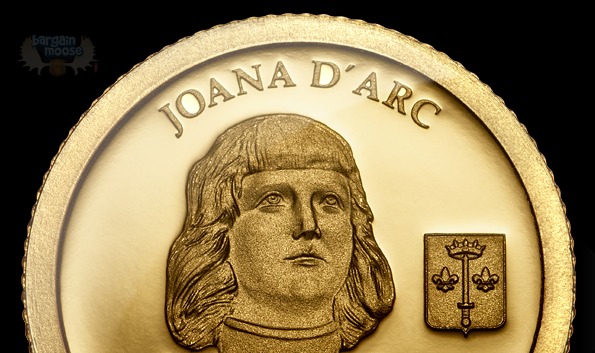 The Royal Canadian Mint wants to put gold coin collections into the hands of more collectors. Thus, they have come out with an offer on a 12-series of gold coins they have ironically called: The Most Affordable Gold Coin Collection. Receive 30% off your first coin and receive your last coin in the 12-coin set for free.
Here is now this whole thing works:
First Coin: Your first coin is Joan of Arc and you will receive the coin for 30% off the regular retail price. Originally $119.95, you will pay just $89.95 for this gold coin.
Coins 2 through 11: These will be sent out on a monthly basis and will cost you the regular price of $119.95 each.
Coin 12: Once you have purchased coins, one through 11, your 12th coin is free.
There are also bonuses! You will receive a free wooden collector's case (valued at $40) and a free magnifying glass (valued at $25) with your subscription. You will receive the collector's case with your third coin and the magnifying glass with your fifth coin.
You save over $200 throughout the subscription. That is no small amount of money when you consider coin subscriptions. Check out this table:

Now, say you receive your first coin or even your fifth coin and you do not want to continue the subscription. That is not a problem. As The Royal Canadian Mint says:
Subscription agreement may be cancelled at your request at any time with a phone call or written notice to the Royal Canadian Mint. Guaranteed right of return for each coin within 14 calendar days of date of invoice.

There are only 10,000 subscriptions available. While you may (should) order now, your subscription will not start shipping until July. I assume you have to pay shipping on your first coin if you buy only it, and then shipping will be free on the others if The Mint has their free shipping over $100 offer still on.
For anyone who has seen the gleam of gold and felt like a pirate, or Gollum, this is your chance to get the most affordable gold coin collection currently available. Looking at the pictures of the first few coins on the website, I cannot say that the set has much of a theme. However, if you figure out what the theme is let me know.
Limited quantities are available.
(Expiry: Unknown)