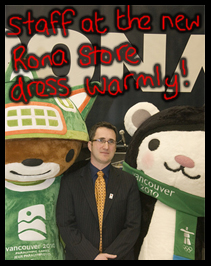 If you were planning on some DIY purchases or some tools from your local Rona Hardware store, here's a great deal for you!
Between the 6th and 7th of December 2008, Rona are giving away free gift cards with your purchases. For every $100 (pre tax) you spend, you get a free $10 gift card. For example, if you spend $600, that means a free $60 gift card! Of course, it doesn't apply if you're buying gift cards themselves, only on products at your Rona store.
I'll let you guys into a secret – I hate hardware stores! Sometimes my OH drags me to get some special tool, and I walk like a zombie round the aisles. They're so huge and sprawling, and there are 2 million different types of screws or bolts or whatever! I can't take the pressure! But I know they're a necessary evil… after all, it keeps him happy for half an hour. :)
Thanks to ully bleil for the picture.