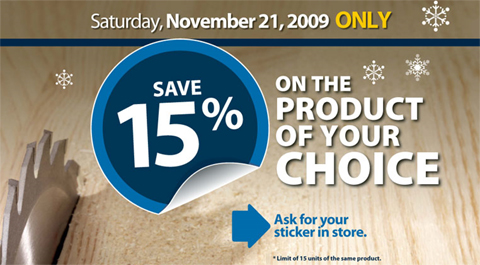 This Saturday only (the 21st November 2009), you can get a 15% discount off the product of your choice at Rona Canada.
Here is a line from the T&Cs:
Consumers will save 15% on one product of their choice per transaction, per person, per day. Limit of 15 units of the same product (same product code). Discount applies Saturday, November 21, 2009, on all in-stock merchandise available in store only.
So, I guess you could either get a 15% discount on 1 big ticket item (such as on power tools),  or if you need a lot of smaller items, you can choose 15 of them. For example, 15% discount on 15 light bulbs!
If there was something you needed to buy in bulk… for example if you needed 50 floor tiles - you could bring your family in with you to buy them. As you can only buy 15, each other person could buy 15 too, and you could get however many you need. Does that make sense? Hope so!