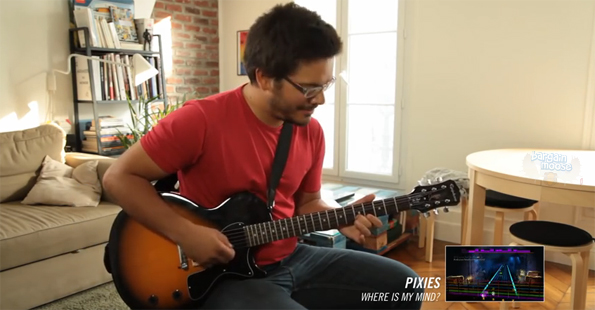 Over on the Humblebundle online video gaming store, right now you can pick up the PC download of Rocksmith, the 2014 Edition. This is a very popular music game and the RRP on the UBI store is $60. Get it for only $14.99 at Humble Bundle!
Rather than those video games where you use the "toy" guitar controller with the coloured buttons, Rocksmith actually uses an actual guitar in its interface, enabling you to learn to play for real.
As far as I am aware, you will also need a Rocksmith Real Tone Cable in order to hook a regular electric guitar up to your system to play this game. If you want to pick up one of these cables, you could hunt for a cheapie on eBay, or there is the likes of this one on Amazon for around $30. It's necessary to play the game.
I'm not seeing the 2014 edition of Rocksmith at many other online stores to price compare this, but you're looking at $34+ for a brand new copy from eBay. I think the price on Humble Bundle is great.
According to Canadianonlinegamers.com, they tell us that there are over 50 songs available to play on Rocksmith 2014.  From that list of artists, some of my favourite bands of all time would be:
Muse
Foo Fighters
Queen
Radiohead
You can actually purchase DLC on top of the original song listings too, with the likes of "The Hives – Hate To Say I Told You So" coming in at an extra $2.99 each; there are over 200 more songs to download.
Since I purchased the first Humble Bundle many years ago (May 2010?), the Humble Bundle site really has come on leaps and bounds. It's not just the little "pay what you want" game packs any more, they're offering great prices on major gaming franchises, such as Rocksmith and more.
(Expires 21st July 2014)