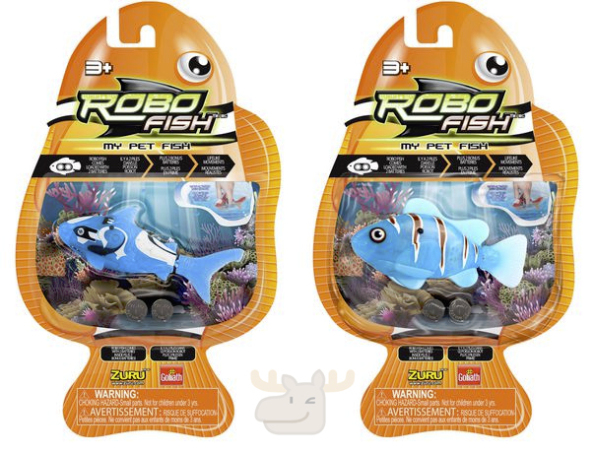 A few days ago, Eva mentioned a super toy clearance from Walmart.ca, with savings of up to 75% on top brand toys. One of the toys she mentioned was the Robo Fish – but it's such a great deal, it needs to be highlighted in a post of its very own. This cute little toy was originally priced at $13.96, but you can grab either the regular fish or the shark, for only $5 just now!
You can choose from "Electronic Pet Shark" or "Electronic Pet Fish" at the $5 price point. They're both pictured above – the shark on the left, the regular fish on the right. But what are they!? These are small 3" long, fake fish… which swim around when you put them in water. They come pre-loaded with a set of batteries, as well as a set of spare batteries for when the first set runs out.
To be honest, these sound like they're a lot easier to take care of than real, live fishies!!
What about shipping? Well, a $5 item wouldn't qualify for free shipping from Walmart Canada. You must spend $50 for free shipping! You could purchase ten robo fishies… or just top your order up with some other items. Alternatively, order these items online and it won't cost you a cent to collect them from your local Canada Post.
Price Comparison
Elsewhere, Robo Fishies are a lot more expensive. You'll be paying around $9 on Amazon, $10 on Canadian Tire, $7 (plus shipping) on London Drugs. To buy one single fish as well as a bowl, the cost from TRU is $19! I wouldn't worry about the bowl though, I think these would be hilarious for the kids to play with in the bath. The price point from Walmart is really great and I think these would make for some cool little stocking stuffers for Christmas.
(Expires: Unknown)