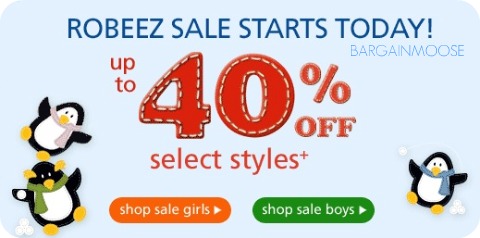 Robeez Canada is having a sale! They have marked down a whole bunch of shoes and boots for little boys and girls up to 40% off! When you buy 2 or more pairs you get free shipping, so pretty easy to do.
While they have lovely shoes, because of the season I want to focus on their sale boots.
For the girls you have 4 choices of sale boots: Cozy Ankle Booties - orig. $35.95, now $29.99; 1st Stepz Button up Bootie - orig. $41.95, now $24.99;  1st Stepz Fuzzy Floral Boot - orig. $47.95, now $36.99; and 1st Stepz Petra Bootie - orig. $47.95, now $36.99. My favourite is the Button up Bootie, it looks so warm!
For the boys you have 6 choices, so I'm not going to list them all here. But my two favourite hands down are the Booties 3D Monster and the Booties 3D Moose.. both originally $37.95, on sale for $26.99. I like them even better than the girl's boots!