Revolve Clothing: Up to 95% Off Sale + 10% Off Coupon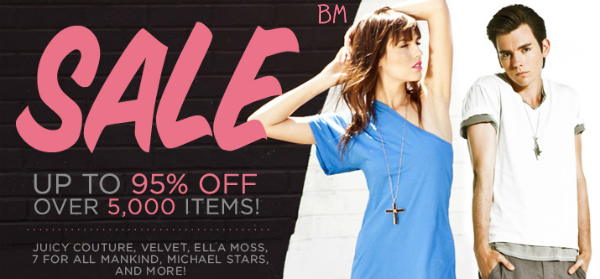 Revolve Clothing is one of my favourite places to shop. They have many of my favourite designers like Miss Unkon, Sam Edelman, D&G, KORS Michael Kors, Marc by Marc Jacobs, Stella McCartney and more! Right now their sale is rocking with tons of new items released every few days, and you can save up to 95%!
Here are some great sale items from my fav. designers:
To sweeten the deal use the following to get an extra 10% off:
Discount: 10% off
Coupon Code: CANDY
Expires: ?
Just tested coupon and it is currently working.
This place is kinda for people who don't ever want to be caught wearing the same thing as someone else. It is full of small time designers and bigger ones too.. and has some fairly unique designs. I am a big fan of Miss Unkon and have a dress of hers that is so unique.. worth every penny. It is a timeless piece I know I will be able to wear to summer occasions for years to come.
Free shipping to Canada!
Note: If this is your FIRST purchase with Revolve Clothing you can email them with your order number (I suggest you just forward your confirmation email) to sales@revolveclothing.com and mention the first time customer discount of 30% off. They should refund you 30% off your purchase value. I just did this and this was Revolve's reply:
Thank you for your inquiry. This is not a problem. I have gone ahead and applied the 30% discount on your order. Your total has been reduced to $98.00 and this is the amount you will be charged when the package ships out. I hope this helps! Thank you for shopping with Revolve Clothing. We appreciate your business!
May I saw: AWESOME!!!!!